Home
---
Knowing John Pizzarelli

by Barbara Chabai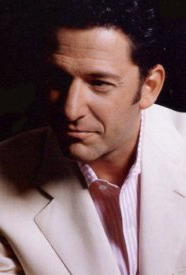 John Pizzarelli once relayed the story of playing at a jazz festival in Italy. A father and his son had traveled 400 miles to see the guitar virtuoso perform live with his legendary father, Bucky Pizzarelli, but arrived late and missed most of the concert.

"My dad said we should play for them for an hour and I agreed," John told International Musician magazine. "That's what my father taught me. His general love of music has made me appreciate everything I have because of how much he loves it."(1)

Likewise, John's reverence of his musical heritage and a zeal for entertaining are what have propelled his impressive career - 2006 marks his 26th year as a recording artist - and endears him to fans around the world.

MY BLUE HEAVEN

John Paul Pizzarelli made his debut on April 6, 1960 in Paterson, New Jersey, the first son of John "Bucky" and Ruth (nee Litchult) Pizzarelli, baby brother to sisters Anne and Mary and future older brother of Martin. (Incidentally, Aries are said to be charming, confident and natural-born leaders who are quick with a joke, good cooks and skilled with their hands!) John grew up surrounded by music in the Pizzarelli home, located in Clifton and later, in Saddle River, NJ. In fact, he claims that one of his earliest memories is that of listening to Beatles records while still a preschooler. Home movies on his 1992 Live in Montréal: The Big Band DVD show the happy siblings laughing and dancing, seemingly always within arm's reach of a musical instrument, usually one of father's guitars leaning against the couch. To develop their finely tuned ears, the children were encouraged to take piano lessons and play in their school band. Even while the family ate, the latest jazz LP would play in the background, both for enjoyment and for a music appreciation lesson around the dinner table.

Naturally, the children were all fascinated by their father's unique profession. Bucky decided that the best way to gauge his young son's interest was to have him learn the same way he did in the 1930s; starting with the banjo as taught by two of the masters. So, at the age of six, John was sent for lessons in nearby Clifton with Peter and Bobby Domenick, his paternal great uncles. The Domenicks were talented musicians, featured on a Carmen Mastren album for Mercury called Banjorama. Peter, the eldest, worked at a Paterson textile company and played area club dates while Bobby went out on the road with early big bands led by Clyde McClure and Buddy Rogers. After a tour stretch, the family eagerly awaited Bobby's stories, listening to his brushes with celebrity as well as learning any new musical tricks he'd picked up.

The Domenicks taught John basic wrist techniques on Bucky's Paramount tenor banjo, working up to "Bye, Bye Blues," "Bye, Bye Blackbird" and "Honeysuckle Rose," a musical rite of passage in the family. John practiced using the solos that Bobby had written out in simple tablature form. It wasn't long before the young novice had his calluses.

Those days, as in many years previous and even more since, Bucky was in high demand as a solid rhythm guitarist. He played on dozens of legendary recordings, no less than Ray Charles' "Georgia on My Mind," Frank Sinatra's "Fly Me To the Moon" and Ben E. King's "Stand By Me." A studio session player, Bucky was a regular with NBC's Tonight Show band when the show was based in Manhattan, before moving to Burbank, California in 1972.

"His day began by leaving New Jersey at eight o' clock," John says, recalling his father's hectic schedule. "He went into the city and did a couple of jingle dates. Around four o'clock, he did the Tonight Show in New York. He came home, and then he went back into the city to work from ten until two in the clubs. My father worked his ass off, but he always did the type of work he wanted."(2)

John is quick to add that the sacrifices and successes of Bucky's career is what schooled all four of the children well and put two of them through college. He credits both his parents for maintaining a normal routine in the household.

"Family comes first and we've been lucky," Ruth Pizzarelli told Bucky's biographer, Terence Ripmaster. "Other than the normal give and take, we all adjusted to Bucky's career. Sometimes it was hard on the kids. He'd have to miss their recitals, graduations and that sort of thing. But we understood. Of course, the fact that the kids all loved music and played with Bucky made for lots of fun."(3)

When he wasn't touring with Benny Goodman's big band, which he joined in 1965, Bucky earned a living inside New York's recording studios. He would sometimes take the children to his sessions, whether laying tracks with Dion and the Belmonts or playing on a toothpaste jingle, and took pride in introducing his family to fellow musicians. John remembers it as being very exciting, "(and) one of the few times I kept quiet."(4)

Bucky constantly looked for opportunities to gently expose his children to the business, like inviting daughter Mary, then 15, to play guitar on two of his albums, including the acclaimed Green Guitar Blues.

While he recorded albums under his own name in the '70s, Bucky played extensively with Goodman, guitarist George Barnes, violinist Joe Venuti and saxaphonist man John Haley "Zoot" Sims. Often, the Pizzarellis would host the musicians that Bucky chummed with, much to the delight of the rest of the family.

"Bucky's a real family man. It's remarkable how his children developed into such talented musicians. But that's Bucky and Ruth," guitarist Tony Mottola once said. "When we musicians would gather at their home in Saddle River, the children were included in the jams."(3)

John's childhood memories include playing ping-pong with Zoot Sims, snacking on cookies and Ovaltine at the kitchen table with bassist Slam Stewart and impromptu sessions around the Christmas tree with Joe Pass and Les Paul. "The funny thing was I knew these guys from being around my father," John says. "I didn't really know much about them aside from they were my dad's buddies. And I think that I had a better time because I didn't know those things."

In fact, witnessing the easy camaraderie between the players is one of the things that pulled John toward the musician lifestyle. "I was attracted to the 'guys.' I loved the 'hang' - watching my father and Zoot Sims all sit in the living room and tell stories," John remembers. "I loved the fact they were having fun."(5)

I'M AN ERRAND BOY FOR RHYTHM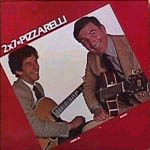 John didn't pick up the guitar, quite literally, until he was 10 or 11. "I just picked the guitar off the couch one day and started looking at the tablature of Elton John songs," he says. "I started playing along with the records and figured, 'Oh, the guitar plays the same way as the banjo. It just has more strings.'"

Bucky remained quiet on the sidelines as John experimented with his gear, strumming this and plugging in that. When asked, he would show his son a few chords, but never pressured or prodded him, other than when he heard a sour chord. "He'd "poke his head out and say, 'move the finger,'" John laughs. (2)

John and his brother Martin attended Don Bosco High School, a Catholic boys' preparatory in Ramsey, NJ. John played trumpet in the school marching band and enjoyed football, basketball and especially baseball. He planned on being the next Ted Williams - in spite of having more heart than home runs.

"I couldn't hit a curve ball," he recounts, later joking that his Hall of Fame aspirations were quickly dashed by an "all field, no hit" reality. "I wasn't making any of the sports teams and I was a big sports fanatic. That's when I realized there was a reason why I was going to band practice."(1)

At school, a friend pointed out that because John had home access to instruments like a Fender Jazzmaster and amplifiers, they could form their own garage band. John's first group, called Emanon ("no name" spelled backwards), came together in 1974, their claim to fame being able to play the Edgar Winter Group's "Free Ride." "(Bucky) loved it. He took me to gigs and always said good luck. He only complained about the volume, but who didn't. We were on a first-name basis with the policemen in our neighborhood!"(6)

John's comic timing makes him an affable front man, and he charmed audiences even back in his youth. It's something he says he also picked up from keeping his ears open.

"There was a record in our house by Bill Cosby called Why Is There Air? I learned all those bits. Then I learned from George Carlin's AM/FM. I listened to those records and I loved the rhythm and the way they told stories."(7)

In his teens, John's musical idols were singer-songwriters like James Taylor, Jackson Browne and Billy Joel. "I loved all those Billy Joel records. I went to see him and loved the excitement of his concert," he says. "I still am a big fan of the music I grew up with."(8)

Peter Frampton's 1976 mega-selling album Frampton Comes Alive was, and still is considered to be, one of the records that made the biggest impressions on John, not only because he played and studied it at great length, but because the rock album helped steer him toward a career in jazz.

Emanon disbanded and John was now playing school dances and parties with Omega ("the last word in rock 'n' roll"). They covered ELO, the Rolling Stones and the Beatles, as well as Frampton's "Shine" and "Show Me the Way."

"I learned a lot of stuff off solos on records," John admits. "One day, when I was 16, my father said, 'Well, that's really great. You learned all of those Frampton Comes Alive licks. Why don't you try to learn 'Rose Room' off this Django Reinhardt record?'"(2)

Purportedly, Bucky offered John $5 to learn Reinhardt's solo, but he never made it past a chorus or two and rightfully didn't earn the fiver. However, it did turn him on to listening to classic jazz albums from Reinhardt, Clifford Brown and Billie Holliday. Little by little, John turned to Bucky for more advice, including help preparing a solo of "Cherokee" for a high school band competition. Another time, a schoolmate who played jazz trombone needed to learn "Spain" for a concert. The boys learned it off a record, leading to Bucky's suggestion that if John could learn that, he was surely able to learn the accompaniments on his recorded duets with George Barnes.

At 17, John was working at Knight's Day Camp in Upper Saddle River, which he had also attended since he was eight years old. One of John's fellow camp counselors had studied with guitarist Barry Galbraith, so the two of them began playing duets at lunch, using the music sheets from Galbraith's lessons. Bucky encouraged John to switch from a six- to a seven-string guitar, featuring a low-A bass note, so that he could better accompany his friend.

John recalls going to Bucky's solo gigs, and his father urging him to bring up his guitar so that he could play "Honeysuckle Rose," one of the few songs he knew by heart at the time. In his late teens, John was again persuaded to pick up Bucky's seven-string Gretsch so that he could accompany his father onstage.

"Learning to be an accompanist is terribly important. Staying out of each other's way is key," John says, playfully adding that it was tough "growing up with the guy you are playing with and having him dock your allowance if you (didn't) stay out of his way."(9)

After graduating from high school, John studied music and music education at the University of Tampa, where he was a trumpet major. In the second semester of his freshman year, his father called to invite him to spend Spring Break in New Orleans, where he and Zoot Sims were playing a two-week gig. Among John's favorite memories of that week was an informal musicians' gathering, complete with colorful stories and equally spicy Cajun food. "It was really cool. I thought, 'If I could ever play an instrument as well as these guys, I could hang out with them.'"(2) After three semesters in Florida, John decided to continue his studies closer to home, and enrolled at William Paterson University in Wayne, NJ. Outside of class, he played his guitar in restaurants and coffeehouses, singing the songs of James Taylor, Michael Franks and Kenny Rankin.

"You can't play solo all night on guitar, so he picked up singing," Bucky recounted in an interview. "He was good at it and just started developing a wonderful repertoire. He wrote some of his pieces and they went over well. I'm proud of him."(3)

It wasn't long before John realized that he enjoyed standing on stage much more than sitting in a classroom, especially when he could be playing gigs with his father. To his parents' dismay but not to their complete disbelief, John dropped out of college to concentrate on becoming a full-time musician.

It wasn't long before he was sharing a stage with Bucky, including a show at the 1980 Highlights in Jazz series in New York City with Zoot Sims. One night, John got an indication of the unpredictable nature of showbiz as two men suddenly started fighting backstage, just as Bucky and Zoot were teaching John some last minute chords for "Ghost of a Chance." Amidst the ruckus and flying fists around them, the veterans didn't flinch and instead, remained cool and focused on their protégé. On Palm Sunday of the same year, John and Bucky recorded their first album of seven-string guitar duets on the Stash label, titled 2x7 = Pizzarelli.


HIT THAT JIVE, JACK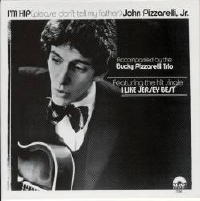 Other than his celebrated father, the other major musical influence in John's life is Nat King Cole.

In 1980, a girlfriend gave John a pop record by an RCA vocalist named Frank Weber. It included Weber's version of Nat King Cole's first hit, "Straighten Up and Fly Right." John enjoyed it so much that he played it for Bucky, who suggested that he would benefit greatly from hearing the song directly from the source.

"Capitol had re-released The Best of The Nat King Cole Trio, Parts I & II," John said. "I found 'Route 66,' 'Baby, Baby All the Time,' 'Frim Fram Sauce,' 'Paper Moon' and 'Straighten Up and Fly Right,' and I said, 'That's what I want to do. I want to make that the foundation of (my) singing and playing.'"(10)

John "just went crazy" and immediately latched on to Nat Cole's songbook and style, buying up all the trio records he could find. He was taken by the fact that the music was romantic, had a sense of humor and, most of all, could really swing. Working in small clubs and cafes as a singer in towns like New Brunswick, Metuchen and Mahwah, John knew that Cole's material better suited his sincere tenor and Chet Baker-like gentle phrasing than that of, say, Sinatra. "When I heard the Nat King Cole Trio, it had all the ingredients that I liked about rock and roll, believe it or not," John says. "I just liked the excitement and the songs were great."(11)

A card-carrying member of the American Federation of Musicians, John would rush from playing jazz gigs with his father at places like the Pierre Hotel to nightclubs to join his band, Sanpaku (named after a Michael Franks song), in time for the first set. Martin Pizzarelli also played bass with the Bergen County group, later reincarnated as The Phil Bernardi Band and AZIZ. Aside from playing Top 40 requests like John Cougar, The Police and Men at Work, they managed to release an original single called "I Like Jersey Best," written by Joseph Cosgriff and Phil Bernardi. The novelty tune, a tribute to all things Jersey, including "The Meadowlands/the root beer stands/Main Street Hackensack," even got limited airplay on WNEW-FM. Eventually, the unofficial Garden State "anthem" would become John Pizzarelli's signature song.

Balancing two different styles of music for two different audiences wasn't exactly a walk in the park. John says that Bucky claimed his double life made him "the only guy playing jazz to support his rock and roll habit."(12)

Late one summer night in 1981, the musical interests of father and son came together in a lightning bolt of mutual discovery. While driving on Route 17, somewhere between the Pierre Hotel in Manhattan and home in Saddle River, a song came on WNEW-AM that John says changed his life.

The artist was Brazilian singer/guitarist Joao Gilberto, credited with being the father of the bossa nova movement. The song was the Claus Ogerman-arranged "Besame Mucho" from the album Amoroso.

"My dad and I both freaked out, it was so good," John clearly recalls. He remembers Bucky repeatedly turning up the volume in the tiny Datsun 210, marveling at every chord change and loudly insisting over the eight-minute song that John get the album as soon as possible. "I bought the record the next day, and heard how (Gilberto) played the guitar, simple yet complex. I had been playing bossa novas, but not like that. So I started trying to play with Joao's kind of guitar playing."(13)

In Spring 1983, John recorded his first album as a vocalist called I'm Hip (Please Don't Tell My Father). The Stash outing featured John on vocals, guitar, trumpet and keyboards backed by the Bucky Pizzarelli Trio, including Russ Kassoff on piano and Jerry Bruno on bass. Among the cuts were several Nat Cole classics, plus the Dave Frishberg-penned title track and two songs from the repertoire of New Jersey pianist Joe Mooney, a friend and influence on both Pizzarelli Jr. and Sr. Also on the recording were two songs that John wrote himself, the Gilberto-flavored "The River is Blue" and the Casablanca-inspired "Here's Looking at You" Kid. John called his compositions "trunk songs."

"It's a term my dad used," John said in the press release for his 1994 album New Standards. "When I was 17 and on my way to 'rock stardom,' I wrote a lot of tunes; he listened to a few. He said, 'Even if you don't use them, put 'em in a trunk. You might need to go to them later.'"(14)

John continued his apprenticeship with Bucky as they regularly played gigs together. Frequently, he would make tapes to listen to on road trips to places like Providence or Boston, inquisitively asking Bucky to break the song down by chord or technique. They finished the album Swinging Sevens for Stash in 1984 before John went back into the studio to record his sophomore effort, Hit That Jive, Jack!. Following the formula of his debut, Hit That Jive, Jack! featured songs like Cole's "Frim Fram Sauce" with a couple of John's own originals sandwiched in. He was beginning to gain attention for making the previous generation's standards sound fresh, relevant and "hip."

By his mid-20s, John moved out of the family home, but was still straddling the musical fence between performing with his father, usually hour-long gigs that gave John the chance to sing a handful of songs, and playing with his own group. It soon became evident which was a more lucrative pursuit.

"I was 25 and living in my own apartment and made income by doing little gigs. On Monday night, I'd go to a restaurant and set up my amp and a mic stand and just play in the corner and hardly anyone would listen. On Tuesday, I'd go somewhere else. On weekends I'd do a wedding or I'd go somewhere with my father and make a lot of money. It would be like, 'Wow… $500! What a night!' Suddenly, I realized I had a bank account. I don't know how it happened!"(15)

Playing with Bucky also had non-monetary advantages, such as giving John the chance to rub elbows with jazz luminaries like Ray Brown, Barney Kessel, "Sweets" Edison and Herb Ellis at Dick Gibson's Labor Day Weekend Jazz Parties in Denver.

"I had to be on my best behavior, musically and professionally," he describes. "At Gibson's parties, they had six of everything - six trombones and six trumpets, for example. Frankie Capp's band played and it consisted basically of all-stars. The trombone section was Urbie Green, Bill Watrous and Slide Hampton. Joe Newman, Snooky Young and Bill Berry play trumpet. Nat Pierce on piano and Marshall Royal on lead. That was as close to heaven as I could get."(2) Thanks to his bloodline, no one second-guessed John's presence at the parties, either.

"There's no burned bridges on the Bucky Pizzarelli trail. People trusted Bucky, so when he said, 'My son's going to play with us tonight' - they let the kid play."(15)


STRAIGHTEN UP AND FLY RIGHT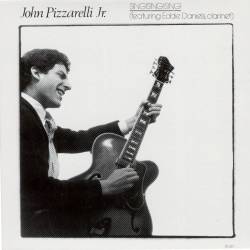 The more he performed, the more John realized that he would have to take care of his voice. For a year, he took vocal training with Katie Agresta, an acclaimed New York instructor with clients such as Annie Lennox, Cyndi Lauper and Steven Tyler - not to mention Peter Frampton and Jackson Browne. "She taught me how to keep my voice in shape," John says of the exercises he continues to use to this day. "I learned to spend 40 minutes warming up in my room before I went downstairs to sing for one or two hours (in) concert."(2)

After cutting his third vocal record for Stash, 1986's Sing! Sing! Sing!, John joined the trio of pianist Tony Monte, who had a regular slot on WNEW's Swingin' Saturday Night show. He credits Monte as being "the first person to hire me when I decided to go pro."(16)

John wasn't quite ready to let go of his rock and roll roots just yet though, as he continued to divide time between rocking out with his group Johnny Pick and His Scabs, playing alongside his father and performing on his own at places like J's at Broadway and 97th Street, where he had a standing club date every Thursday for two years.

One evening in 1987, he met a young woman at one of his shows. He describes their meeting in the liner notes of 1993's Naturally: "We got to talking about our mutual love for Brazilian music and about four weeks later, I received a tape that she had made for me of some Brazilian artists - Toninho Horta, Elis Regina and Hermeto Pascaol. The tape went everywhere I did, and I listened to it constantly. I wrote 'Your Song is With Me' and realized it was not only a song about music, it was a song about falling in love." John and Maria Traversa were married three years later, and welcomed son John Paul IV in September, 1991.

This time of personal fulfillment also brought a sense of professional gratification to John. Two years before, he had made a record with Bucky and Chicago violinist Johnny Frigo called Live From Studio A. It was on the Chesky label, and John's contribution was impressive enough for David and Norman Chesky to consider signing him at a time when they were searching for their own young male crooner in answer to a hot New Orleans property named Harry Connick, Jr. David Chesky heard one of John's solo sets during a Thursday night at J's, and a record deal was sealed.

Six months after Studio A, tapes were rolling once again as John recorded his Chesky debut with Bucky, pianist Dave McKenna, bassist Milt Hinton, trumpeter Clark Terry and drummer Connie Kay. My Blue Heaven was the first album in three years to feature John's singing. Backed by a "who's who" of jazz veterans, John found the on-the-job learning experience to be thrilling.

Realizing his raw potential, the Chesky brothers urged John to get a booking agent and a manager to try to promote the record. He put together a trio in the style of Nat King Cole, that is, one without a drummer.

"I didn't want it to be guitar, bass and drums," he says, supporting the decision. "I wanted another instrument in there to share the chords and harmonies and solos. To keep it economical and musical, the piano was the obvious choice."(17)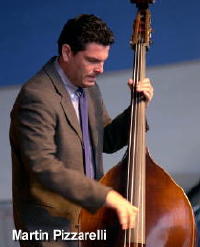 John enlisted Ken Levinsky (son of clarinetist Walt Levinsky, also a Benny Goodman alum) to play piano and asked his brother to become his full-time bass player. Years after he says he thrust a bass guitar upon Martin to round out one of his garage bands, John knew that Martin would be a natural choice because he had natural instincts.

"(Martin) really is the unsung hero. We're fortunate to have him," John says. "He creates a lot of excitement within what he does. It's very instinctive, and he reharmonizes things at the drop of a hat. He's a terrific player, and what a bass player in a group like (this) is all about."(10)

RCA came calling when they heard My Blue Heaven and caught on to the buzz surrounding the John Pizzarelli Trio's live shows, not the least of which was his being nicknamed "Mr. Natural" by Jazz Times magazine and being voted best male vocalist by the Manhattan Association of Cabarets in both 1988 and 1989.

As with Chesky, there was increasing pressure on RCA to find their own jazz-pop crossover star, cut from the same suave fabric as Sony Music's Connick, Jr. In 1992, John was signed to their jazz boutique label, RCA Novus. All of Me was a big band album with a big budget. The accompanying press release stated that he "exudes equal confidence, conviction and charm fronting an 18-piece big band as well as a whopping 30-member string orchestra. Belying his young age, he displays highly developed instrumental and vocal skills on songs that predate his birth."(4)

Once again, songs were intentionally chosen to pay due respect to past standards, while also including three original Pizzarelli "trunk songs" that he penned and published under his newly-renamed And Baby Makes Three banner.

"The producers wanted pop songs on my records. They thought they could find that crossover song," he says. "It was really impossible to take what I was doing and adapt it. What was the sense to putting brown shoes with a blue suit?"(2)

Shortly after returning from a stint at the Montreal Jazz Festival in 1992, John set to work on another big band album, titled Naturally. He admitted to feeling more at ease singing in front of a big band and comfortable in conveying ideas to arranger Dick Lieb, whom he'd also worked with on All of Me. Naturally was released in February 1993 to some acclaim, including British critic Dave Gelly, who wrote: "Why he is not infinitely more famous than Harry Connick, Jr. I cannot understand, unless it is simply a matter of (his) being too hip?"(18)

(Incidentally, John met Connick, Jr. at the peak of the music critics' comparisons. Connick reportedly questioned, "Do they ask about me in interviews as much as they ask about you?")

The trio began to buckle under the weight of another rigorous tour schedule to promote Naturally. The road was taking its toll on Ken Levinsky, who preferred to work closer to home. After some discussion, he decided to depart the group at the beginning of 1993, leaving John and Martin without a pianist.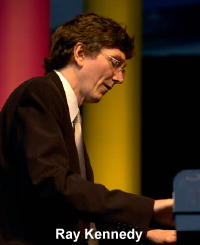 Bassist Jerry Bruno introduced Bucky Pizzarelli to a St. Louis pianist transplanted in New York by the name of Ray Kennedy. He sat in on a few club dates with Bucky's trio. "My father called me up and said, 'If you're looking for a piano player, this guy's unbelievable.'" John recalls, noting that he'd only auditioned two players. "We had Ray over to the house and gave him some tapes of the trio and said here's where we're at." Before rehearsing with John and Martin, Ray, a disciple of Oscar Peterson and Art Tatum, studied tapes of concerts and club dates and learned some of the original songs, which he "swung the daylights out of." John was struck by how even a usually reserved Martin couldn't help but tap his foot and slap the bass along. "Martin and I looked at each other, then glued Ray to the piano bench, where he's been ever since."(15)

Later that year, the trio was chosen to be the opening act for Frank Sinatra for five tour dates in Germany and for 12 additional cities in the U.S. "I saw him in Brendan Byrne Arena in New Jersey in 1987, and he really got to me," John remembers. "It was 17,000 people, all that music and just him standing by himself. That night was unbelievable."(19)

It was obviously "thrilling" for the Jersey boy to be chosen for the Sinatra tour. John still recalls feeling the whole molecular structure in the building changing the second that Sinatra would arrive. One date in Germany was an outdoor venue in front of a 10,000-strong audience, a night John calls "electric," as were all the rest.

Although his brush with Sinatra was brief, it was memorable. A member of the Chairman's entourage escorted John from his room. Nervous but excited, John was hoping to hit it off with the legend. "I thought he'd hear 'Pizzarelli' and it would be a big Italian thing - drinks in Palm Springs, lunch with Steve and Eydie," he recalls. "I shook his hand and he looked me up and down. The production guy said to him, 'His father is Bucky Pizzarelli. He worked with you.' Frank looked at me and with a grin, said, 'Eat something. You look bad.'"(20)

John jokes that the five-word anecdote at least gave him something to tell the grandchildren someday. Fortunately, the trio's music left a more favorable impression on Ol' Blue Eyes, evident when he gave his nod of approval. "We'd watch Sinatra in the wings waiting to go on (after us). He'd be snapping his fingers, tapping his toes. Then he'd walk onstage and say, 'Weren't those guys great?' It was fun touring with him."(19)

Touring with Sinatra may have even indirectly influenced John's code of attire and his status as one of the jazz world's sharpest dressers. "In the photos of my father's studio dates in New York, all the guys are in dark suits, white shirts, dark ties. That's how they went to work. They were impeccable. So refined. The whole thing fascinates me. Frank had the pin in the collar, and he always wore great hats," he says. "When we were on the road with Sinatra, I told the guys we would wear suits on Sundays instead of tuxedos because I knew Frank wasn't going to wear one. He never wore a tux on Sunday. And he never put his pants on till he was ready to go out on stage because he didn't want to ruin the crease. If he did put his pants on, he wouldn't sit down."(20)

YOU'RE LOOKIN' AT ME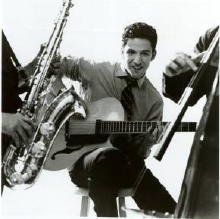 Upon returning home, John began the search for material for a new album. Producer Brooks Arthur, who RCA had recommended after his work with Bette Midler and Michael Feinstein, arrived on John's doorstep with tapes of more than 40 songs. The idea was to find songs that other singers had not yet put their stamp on and turn them into "new" standards. John was a little apprehensive at first, but as the two sat and listened to the demos and exchanging ideas about the music, the idea blossomed. New Standards was released in 1994, with songs from Jerry Leiber and Mike Stoller's "Fools Fall in Love" to the Barry Mann/Cynthia Weil pop confection "Look At Us." In between, there was not one, but two versions of John's swinging "Oh How My Heart Beats for You."

"It's a pop record that acknowledges the '50s jazz influences, but it's being played by guys who make it personal. We're just presenting the music the way we know how," he then said. (21) And while the songs were new additions to John's repertoire, he paid tribute to old friend Zoot Sims. Included in the liner notes was a reproduction of the 1955 photo William Claxton took of Sims listening to a playback - but this time, John was in the chair, a guitar across his lap in place of Zoot's saxophone.

By the mid-'90s, John began making a name for himself around the world, and his popularity grew especially in Japan. Dear Mr. Cole was the brainchild of BMG executive Ikuyoshi Hirakawa, an album made exclusively for the Japanese market. Readers of the Japanese jazz magazine Swing Journal voted on a "wish list" of Nat King Cole songs they wanted John to record, as well as the "dream team" he'd make it with. The results were tallied and John, bassist Christian McBride and pianist Benny Green recorded the album in New York over two days. 1994's Dear Mr. Cole sold so well that RCA decided to release it on the heels of New Standards in the United States.

However, success is often a two-edged sword. Professionally, John's career was red-hot, but as is apt to happen, increased career demands made things difficult at home. He and Maria decided to file for divorce. After Hours was John's 1995 project, a definite departure from the previous two records' big band sound.

"Our trio was coming back from Paris and Ray and I got to talking about the songs we really wanted to record. For some reason, I never recorded more than one or two real ballads on a record," John said in the album's press release. The trio decided on their top choices and then made a demo at Nola Recording Studios with drummer Joe Cocuzzo and tenor saxophonist Harry Allen, whom John met at a gig in the mid-'80s while Allen was still a student at Rutgers University. "We did seven tunes at once (in the) studio," John said. "When it was over, we had the makings of a record we never expected to record."(22)

Mr. Hirakawa at BMG liked what he heard - an intimacy reminiscent of a smoky, small room on a late night feel to the ballads. He decided that he wanted the recording as a follow up to Dear Mr. Cole in Japan, and the trio returned to the studio with Cocuzzo and Allen, adding Bucky Pizzarelli on guitar and Randy Sadke on trumpet. In Japan, where the trio toured in support of the release, the album was released as Ballads for You. In the States, it was titled After Hours.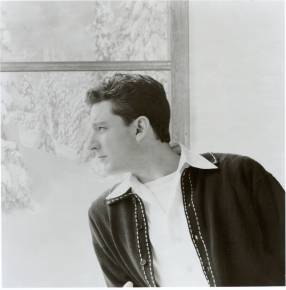 Pleased with the response, RCA bumped up John from Novus to the major label for the making of a big band-style holiday album in 1996. Ron Fair, RCA's A&R (Artist and Repertoire) man, figured it apropos for John to collaborate with several stellar arrangers on a seasonal collection featuring the best of jazz, swing and romantic ballads. And, as John jokes, "my label told me to do a Christmas record so that I'd have a record selling every year."(23)

Little expense was spared for the recording. Made in the summertime in both Los Angeles and New York, it brought together Johnny Mandel, Claire Fisher, Don Sebesky, Michel Legrand, Dick Lieb, Patrick Williams, Torrie Zito and John Clayton. Lieb, who had worked with John on All of Me and Naturally, was the only arranger that he'd collaborated with previously.

One of the tracks on Let's Share Christmas was the Nat King Cole chestnut, "The Christmas Song," which John recorded at L.A.'s Capitol studios, Cole's famed musical home. As if to receive a nod and wink from above, John fortuitously bumped into Natalie Cole, with whom he had recently worked on her album Stardust. "It was a magical moment. It was just right seeing Nat King Cole's daughter as I was about to record 'The Christmas Song.'"(24) It wasn't the first time that John experienced an uncanny Cole connection. Years earlier, he met Cole's widow, Maria. "She mentioned that when she saw us on television, she said, 'My God, it's the Trio!' I couldn't believe she said that to me."(25)

In December of 1996, John performed for one week at New York's famed Blue Note, putting on a big band Christmas show conducted by Don Sebesky. To create a balance of holiday music and other swing numbers, Sebesky studied some live tapes of the John Pizzarelli trio and wrote big band arrangements around standards like "Avalon," "Nina Never Knew" and "Kalamazoo" especially for the gig. What John calls a "thrilling week," backed by a band that included members of the Vanguard Jazz Orchestra, received rave reviews. During breaks, John and Sebesky would discuss the material, and what other songs would lend themselves to big band arrangements. One of the songs discussed was Lennon and McCartney's "Honey Pie."

"'Honey Pie' came from an idea Don had," John explains. "I've always been a big Paul McCartney fan and I knew Don could make it work in a big band setting."(26)

The December Blue Note gig resulted in John's next RCA album, Our Love is Here to Stay. John called it a very "live" record on the heels of the club performance. The songs selected for the album, nearly called Rhythm is Our Business, came together easily, blending Gershwin's beloved tune with more obscure choices, like Joe Mooney's "Have Another One, Not Me," and Pizzarelli originals, like "The Day That I Found You."

"We're not digging up old arrangements, we're creating new ideas," John notes. "That's what's so beautiful about interpretation, and that's what we constantly try to do. The important thing is that we're always trying to move the music forward."(27)

The last song recorded for Our Love is Here to Stay, which earned Sebesky a Grammy nomination for his arrangement of the title track, was "Dream." It was also the name of a new Broadway musical revue about the life and music of Savannah, Georgia songwriter Johnny Mercer. John was tapped to star alongside Lesley Ann Warren and Margaret Whiting.

Whiting, who has close professional ties to Mercer and is president of the Johnny Mercer Foundation, wanted John and his trio to be involved in the production, considering him to be a modern interpreter of the era; one who truly understood the "heart" of Mercer's music. "Johnny Mercer had signed the Nat King Cole trio to Capitol Records, so there (were) a lot of interesting little parallels."(2)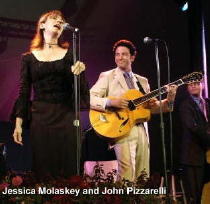 The cast, including Martin and Ray as part of the musical ensemble, rehearsed for several weeks down in Tennessee. One of the cast members quickly made an impression on John - Wolcott, Connecticut native Jessica Molaskey, a theatrical actress who had appeared in Tommy, Crazy For You, Les Misérables, Cats and Songs For a New World. "I loved the way she sang," John recalls. "I forced my way into accompanying her in the show and then I got to know her in Nashville."(5)

Jessica saw John on TV while she was doing Tommy in San Francisco, long before they met. "I'd first heard him performing with his father on The Tonight Show. I said, 'Who is this guy?'" she recalls. "Cut to a few months later. An agent was talking about the possibility of being in Dream. I said, 'Who's gonna be in it?' When I heard John's name, I said, 'I want to do it.'"

The attraction, which Jessica calls "so high school," was instant and mutual. The minute they heard one another sing, they both looked at each other and realized they were cut, as Jessica says, from the same musical cloth. "We'd go to the basement to work on (an) arrangement and my face would be red. His chords were so impeccable, he was such a great musician. I glommed on to him like a barnacle."(27)

The show finally opened at New York's Royale Theatre on April 3, 1997, and lasted for only 133 performances before closing on July 6, 1997 - a veritable bomb in Broadway terms. "I asked myself something I will never ask myself again: 'How bad can it be?'" Jessica joked to Talkin' Broadway. "Whenever you ask yourself that question - you find out!"(28)

John says that Dream was worthwhile, as was performing on the Great White Way. "I enjoyed it and it was a good experience because a lot of people got to hear what I do who normally wouldn't come to a jazz club, so that was great, and it's really paid off."(29)

It most certainly did pay off - John and Jessica married in New York in January 1998. Their daughter, Madeleine Elizabeth, was born later that year.

RHYTHM IS OUR BUSINESS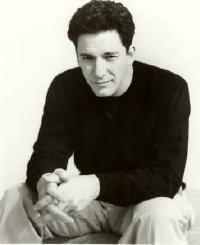 RCA supported Our Love is Here to Stay with a good deal of high-profile publicity, including spots on the Late Show with David Letterman and The Tonight Show with Jay Leno. Among the more unusual appearances was a cameo on Aaron Spelling's nighttime soap, Melrose Place. The season six episode, originally aired October 27, 1997, was titled "The Light at the End of the Tumble."

"In our episode a woman lost the baby that she wasn't really having," John chuckles about the melodramatic storyline. "Next thing you know, while I'm playing 'Nina Never Knew,' there's a fight in the office and she falls down a flight of stairs. But by the end of the episode, she was fine."(30)

The inclusion of the Beatles' "Honey Pie" on Our Love is Here to Stay garnered a lot of interest in the press. So much so that it got John thinking that reintroducing other Beatles' tunes with a jazz edge might help turn younger listeners and other non-jazz listeners on to the standards. He set out to work with Don Sebesky.

With a musical objective of placing the songs into a different era as if another performer had first recorded them, John Pizzarelli Meets the Beatles featured Lennon and McCartney classics in the style of Woody Herman, Van Morrison and Antonio Carlos Jobim under album cover art imitating A Hard Day's Night. The 1998 album was well received around the world, including Brazil, Italy and in Japan, where it went to number one on the jazz chart. A Canadian-only version was released with two tracks not on the U.S. album, and a TV special was taped at the Montreal Jazz Festival, spotlighting the trio performing the Beatles songs with a little help from their friends Harry Allen and Don Sebesky.

"We performed it around the world and it was received amazingly well, except by the record company," John says. "RCA didn't like the Beatles record. They didn't get it and we had a lot of discussion about it."(31)

Despite glowing reviews for the Beatles album, John was moved back to RCA Victor. Still under contract, the last album that the trio put out with RCA was P.S. Mr. Cole. It was originally made exclusively for the Japanese market to follow the success of the first Cole record and accompanied by a concert tour. It was the first CD to solely feature John, Martin and Ray.

After touring in support of P.S. Mr. Cole in Japan, where John was named Jazz Vocalist of the Year by readers of Swing Journal magazine, it was discovered that a disc jockey just outside St. Louis had been playing cuts from the CD. Pizzarelli fans were anxious to get a copy, but disappointed to learn that the album was unavailable stateside. The unexpected grassroots movement prompted RCA to release P.S. Mr. Cole at home.

When the album came out, John was already dotting Is on a brand new contract with Cleveland-based record company, Telarc International. His first project was Kisses in the Rain, a 2000 album that set out to capture and the spirit of the John Pizzarelli Trio's live performances. Jazziz magazine reported that to recreate some of the directness and spontaneity of a gig in the studio, John insisted that the trio record in a close setting, without headphones. "I hope that everyone who has applauded and supported us in concert will feel that this record captures some of the joie de vivre and vitality of that experience."(32)

Among the tunes on Kisses was the first full song that John and Jessica collaborated on together. "I Wouldn't Trade You" was written specifically for the 1999 Steve Martin remake of The Out-of-Towners, in which the trio had a cameo during one memorable scene at Tavern on the Green.

"I said to my wife, 'We have to write a song.'" John said. "In the Jack Lemmon version, he gets the job, and the song has to be positive about New York, but explaining why he wouldn't want to stay. So Jessica came up with the whole song, 'I wouldn't trade you…' for all this stuff. She finished this great lyric at five in the morning when the baby was teething. I put the melody to it, and it worked out terrifically. We put it on tape, but at the end of the movie, Steve Martin and Goldie Hawn stayed in New York. So it changed the whole ending from the first movie. We had this great song, and we started playing it on gigs."(2)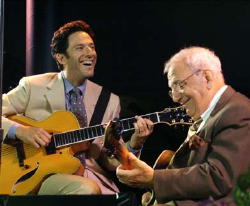 By this time, John had returned to recording and performing as a duo with his original partner, Bucky Pizzarelli. Acclaimed albums At the Vineyard Theatre (1996, Challenge) and Contrasts (Arbors, 1998) were released, along with several titles reissuing the pair's previously recorded material. The Pizzarellis - John, Martin, Ray (adopted), Bucky and Jessica, also began performing a cabaret show as the First Family of Cool, giving everyone a chance to shine in the shared spotlight, much to the delight of smiling, toe-tapping audiences from coast to coast. "A great show is like a great meal with good wine. All the parts should fit together," John says, with a nod to the musical clan he has dubbed the Von Trapps on Martinis. "People are paying a lot to see us, so we owe them an entertaining experience."(33)

IF DREAMS COME TRUE

In 2000, John had the pleasure of recording with Rosemary Clooney, with whom he had a close relationship - she affectionately referred to him as "Johnny," and he called her "Rosie." Both John and Bucky had played periodically as sidemen for Ms. Clooney, most notably at New York's Rainbow and Stars. John dueted with her on the 1992 record, Do You Miss New York? and was delighted to be given the chance to contribute to Brazil, a love letter set to the breezy music of Jobim and Gilberto. John recounted the experience of working with the legendary chanteuse, which he has called one of the true highlights of his career, in a heartfelt tribute on her Web site:

"She was a tremendous person. A helluva musician. She did more with communicating a song than I have ever heard and she didn't have half the breath half the time to do it. She lived inside the songs she sang and made us go with her there, too. She was a great person to eat with, drink with and she was a wonderful presence when she held court. When audience responses weren't to her liking, she worked harder and although she could fly out a "shut up" playfully to someone during a show (usually to someone who was so comfortable that they felt they could talk to her right there) she never compromised her performance. She was always great. "When we were together at Mackinac Island in Michigan two years ago, Rose invited Jess and I and Maddie to dinner along with her manager, his wife and Rose's best friend. We were a little skeptical at bringing Maddie, but we had enough 'stuff' to keep her occupied. Stuff that included stickers. Well, of course, Maddie passed out the stickers, but wanted everyone to put them on their face. Rosie happily agreed and long after our stickers came off, there was Rose telling a Bing Crosby story with a sticker on each cheek and one on her forehead. She was somethin' else. I am sad." (34)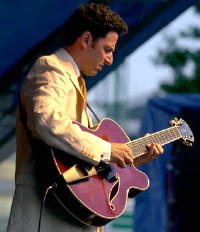 Let There Be Love followed Kisses in the spring of 2001. The "mood" CD had a theme of romance and the sound of an intimate evening at home, as if the trio was kicking back for a cozy living room jam. Joining the get-together was Bucky, Harry Allen, Ken Peplowski on clarinet, Dominic Cortese on accordion, Jesse Levy on cello as well as percussionist Tony Tedesco, who played the unusual but effective set up of drum brushes on a phone book.

"One day we were in Canada and John had a promo appearance at a record store," Tony explains. "They put a mic on a phone book and it sounded great, so he said, 'We'll do an album like that.' It ties in with the family in the living room. I told my dad, 'I've been playing for 40 years, and I end up playing a phone book.' But it sounds pretty good."(35)

Around this time, John "accidentally" discovered a knack for cooking, which quickly became a passion and a pastime. In earlier attempts, he admitted to being intimidated by thoughts of leaving out an ingredient, making too much or burning a meal altogether. But while appearing at Jazz at the Bistro in St. Louis, John stayed in an apartment with amenities he could not resist. "When I saw the kitchen, I got the urge to cook," he recalls. "I told my band brother to come up that weekend, and I would prepare a meal. We told stories, played guitar, talked, laughed and ate. It was great."(36)

John says that making a batch of gnocchi or pasta sauce is now among his favorite ways to unwind. "Sometimes to my wife's chagrin I say, 'I'm cooking tonight!' I make a big mess, but sometimes when I come off the road I just want to make a nice red sauce and that's really relaxing. There is something about bending down and smelling the sauce and thinking next time I'll add this or that… then I tell Ray about it."(31)

John expanded his culinary repertoire with help from Food Network celebrity chef Mario Batali. "I just cook whatever Mario cooks," he confesses. "I'm a 'cover band' of chefs! I only cook his recipes. I don't do anything original."(37) John became such a fan that Jessica arranged for her husband to be on Batali's television show, Molto Mario. John was one of three guests who sat at the kitchen set, watching intently as Batali prepared three farro barocco-themed dishes for the sampling. "We taped early in the morning," John said. "That night, we went to his restaurant. He came out to the table and said, 'How ya doin'?' It was like meeting Zoot Sims; he was really cool."(38)

In 2001, Telarc brainstormed the pairing of John with labelmate George Shearing, the British-born piano legend who had worked with Nat Cole, Peggy Lee, Mel Tormé and many other jazz luminaries. "Ray and I were driving one day and I brought it up to him," John recalls. "I said, 'Telarc wants me to record an album with George Shearing. Should I do it?' And Ray said, "Of course you should make the record!' The guys were thrilled. They're so proud that they say that 'we' recorded with Shearing."(39)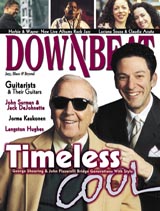 John would go over to Shearing's apartment and they would listen to music, select songs, rehearse and hash out ideas. "(The album) was a great challenge musically and it was just great fun to be around someone that magnificent," John beams. "George is an icon."(40)

The two got along famously and respected the musical contributions of one other, in spite of a 40-year gap in age. John went into the studio for three days with the George Shearing Quintet, just weeks after the 9/11 terrorist attacks brought down the World Trade Center. "It was literally a month later that we recorded the album, so some of the songs were interesting," John says. "'The Lady's In Love with You' has a line that goes, 'If you travel by plane, she says "take the train."' It was an interesting lyric. We saw two extra verses to that song and decided to do all three verses. Other songs, like 'September in the Rain' (and) 'Something to Remember You By' all had added meaning after that."(39)

When finished, The Rare Delight of You was a tip of the hat to some of Shearing's best work. "I wanted to point to songs that I've heard George play over the years that I really loved," John told DownBeat in a July 2002 cover story on the Shearing/Pizzarelli collaboration, specifying tunes like "Lost April" and "Be Careful, It's My Heart."

The following year, John had an opportunity to collaborate with yet another legend, but this time, one of his teenage idols - James Taylor. Producer Russ Titelman called John, told him that Taylor liked the way he played rhythm guitar and asked if John wanted to play on the upcoming album October Road. He didn't think twice before accepting. "We did a whole night session where we got to hang out and play," he says. "I told James that I had been waiting for him to ask me if I knew how to play his songs since I was 16, and here it was happening to me when I was 40-something. It was just special."(1)

The session went so well that Taylor asked John to join him for three concerts with the Los Angeles Philharmonic and another with the Boston Pops. Two years later, John returned to the studio with Taylor to record the renowned singer-songwriter's Christmas album.

Also in 2002, John produced wife Jessica's first solo album, Pentimento, a salute to the music of the Depression era. It became her record label's biggest selling album and was followed by a 2003 tribute to Peggy Lee called A Good Day, and later, 2004's Make Believe, an album of "42nd Street meets 52nd Street"-type jazzified Broadway hits. John, Martin, Ray and Bucky played on the albums, along with several players that were part of the Pizzarelli musical family - including Ken Peplowski, Johnny Frigo, Tony Tedesco, Jesse Levy and Larry Goldings.

THE WONDER OF IT ALL

While he spent a great deal of time making music with famous friends, John finally came into his own celebrity in 2002 - doing a commercial.

Songwriter Joey Levine, whose claim to fame was penning Tommy James and the Shondells' "Mony Mony," composed a catchy radio jingle for Foxwoods Casino in Mashantucket, Connecticut, and asked Don Sebesky to do the arrangement. After writing a swing chart for "The Wonder of It All," there was only one vocalist that Sebesky wanted for the job. "Don called me and said, 'Come down, we're doing this jingle, and you should sing on it,'" John relates. "He and Joey had me record it, and it was amazing. I laughed through it. It was fun to do."(7)

Before John left the recording studio, he was told about plans for a Foxwoods television commercial. Discussions went so far as the director suggesting John as the star. Not sure if the offer was serious, John left his manager's business card behind. By the time he returned home, a deal was in the works and shortly after, John was in front of a TV camera, lip-synching the finger-snapping "Life is good/life is sweet/grab yourself a front-row seat" ditty as he strolled through the "action" on the casino floor.

The 60-second ad was played frequently on radio and television stations along the eastern seaboard, and was in especially heavy rotation during Red Sox baseball games. John performed at the casino on several occasions and even recorded an exclusive album called Live at Foxwoods, featuring the trio, semi-regular drummer Tony Tedesco and the "Foxwoods Four": John Mosca on trombone, Tony Kadleck on trumpet and both Andy Fusco and Kenny Berger on saxophone. John was instantly recognized as "that Foxwoods guy."

"In the Northeast, I can see people staring at me on the street," he acknowledges. "It's a great tune, and people are calling the casino to ask, 'Who's that guy singing?' So, if I'm going to be associated with a jingle, I'm happy that at least it's something I like."(7)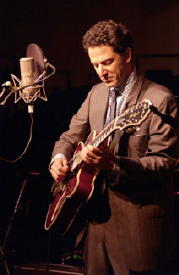 To mark the 10th anniversary of the John Pizzarelli Trio in 2003 - the John, Martin and Ray incarnation - plans were made for a live CD featuring selections from the 250-plus staples in the group's decade-old repertoire. In September 2002, Live at Birdland was recorded over four nights at New York's famed jazz club. However, a live recording presented its own challenges.

"We pretty much knew when we had a good take of a new song, and to keep track mentally of what we had. Also to play relaxed and not get caught up in the fact that the tape was rolling, because that can throw a wrench in the engine," John recalls. "The first night, the first set was really frantic, and I remember coming in the second night and saying, 'Listen, everybody, let's not worry about the tape and just play the way we play. We've got material and we've got nothing to worry about. Let's just get up there.' And we really settled in after the first night."(10)

The album features standards, originals, covers (including a song that John recorded with James Taylor for the 2003 Grammy-nominated October Road) and John's witty banter between songs, a cornerstone of any trio show. "I wanted it to be an 'all in' CD. They agreed. If I was going to make a live CD, I had to put the patter on it," John says. "It's as much of what our shows are about as is the music."(41)

FASCINATING RHYTHM

In 2003, several things in John's career began to come full circle. One of the most prominent was an opportunity to once again work with Frank Sinatra.

The Sinatra family commissioned the use of rare, unseen archival footage for an October 2003 theatrical production titled Sinatra: His Voice. His World. His Way. at Radio City Music Hall. The footage was restored and projected onto a 40-foot screen, making it appear that Sinatra was performing with a live, 40-member orchestra led by John Pizzarelli. Not only did John conduct the group through famous Nelson Riddle arrangements like "Fly Me To the Moon" and "One For My Baby," he was the show's narrator, guiding the audience through the glamorous and tumultuous events of Sinatra's life through song and interview clips.

"When Sinatra sings a song, you feel he believes it," John explained Frank's iconic status on 60 Minutes II. "He believes that you're going to get on a plane and fly away with him. He believes that it's a quarter to three. Those things are etched in stone."(42)

Along with the music, there were choreographed dance numbers by the Rockettes, fantasy props and sets, and even giant "Rat Pack" marionettes. Among the spectacular special effects were scenes that magically placed John inside the screen with Sinatra for what was called by some "the best performances he never gave."

"It was a thrill of a lifetime to be on that stage and see 6,000 seats filled, not to mention see Sinatra larger than life in front of you," John said. (41)

The other career coincidence in 2003 was the return of Brazilian music to the forefront of John's musical vista. For six years, he toyed and shelved, then toyed some more with the idea of a Brazilian-themed album. The creative catalyst was a 1997 performance in Brazil. "I was playing (the classic bossa nova song, Antonio Carlos Jobim's) 'The Girl From Ipanema,'" he relates. "I sang it in English, and then the people in the packed club sang it (back) in Portuguese. It was absolutely wild. It was so moving, I was crying." (13)

John made several guitar-and-voice demos of the songs he wanted to record, playing them with a hand-held shaker or a simple piano melody. He kept the demos for future use under the working title of Por Joao, a tribute to Gilberto, whose music a set off a spiritual awakening in John the moment he heard it on his car's AM radio that fateful night in 1981. Then, in 2002, producer Russ Titelman saw an inspiring live performance by Gilberto. He called John and suggested that the time was right to make a bossa nova record, and was ready to make the arrangements. Titelman was on the horn with some Brazilian artists that knew, including Antonio Carlos Jobim's former drummer Paulinho Braga, pianist Cesar Camargo Mariano, and singer Daniel Jobim, the soft-spoken grandson of Antonio Carlos.

"Along the way, I realized how intimate I wanted the record to be," John says. "I was originally going to go with 12 violins and four violas and four cellos, but as I kept going back to the demos, I realized that I would probably lose the intimacy I was looking for." (43)

In the end, the album's 13 tracks were a combination of trio-only numbers, spirited rhythms and more lush, Don Sebesky-arranged string and flute arrangements. "It was thrilling the way it turned out," John expresses. "Paulo Braga kept saying, 'It's like a river, it's flowing."(13)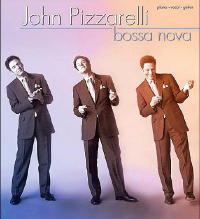 Reviews for Bossa Nova, John's best-selling album to date, were overwhelmingly positive, and in many cases, critics wondered why it took him so long to put the collection out. Don Heckman of the L.A. Times wrote: "His soft-spoken vocals and masterful guitar playing closely parallel the work of the great bossa nova godfather João Gilberto. The results are first-rate, in part because Pizzarelli has used bossa nova rhythms in different tempos and styles and applied them to an intriguing range of material. Neither James Taylor's 'Your Smiling Face' nor Stephen Sondheim's 'I Remember' come quickly to mind as bossa nova candidates, but Pizzarelli gives each an entirely new, utterly appealing musical persona. The Antonio Carlos Jobim classics here are even better, with Pizzarelli's empathic blending of the rhythmic lift of jazz and the sweet sensuality of Brazilian music."(44)

Such positive reviews affirmed the sentiments of the Brazilian studio musicians, who pronounced the New Jersey native as truly having the music of Sao Paolo in his blood.

For the ensuing tour of the U.S., Canada and Brazil, the John Pizzarelli Trio expanded. After following Nat King Cole's "drumless" model for so many years, the time was right to add percussion, and another member, to the core group's established sound. Longtime friend Tony Tedesco, who previously played with the Pizzarellis on many occasions and recording projects, was invited to permanently make the trio a quartet. "I really like having the drums now," John admits. "We were ready to go in that direction, and it was important for the bossa nova material to have that, too."(43)

Although he achieved making his dream album and adding it to a body of work that would be regarded as remarkable for one entire lifetime, let alone in just 25 years, John continues serving as a humble interpreter of the music that has influenced and moved him.

His 2005 musical project did just that. Knowing You, his 19th album as a bandleader, was heralded by Amazon reviewer Lloyd Sachs as "one of Pizzarelli's best albums."(45) It served as a personal tribute to some of the long-admired composers and lyricists John has encountered and been inspired by throughout his career: Alan Bergman, Frank Loesser, Johnny Mandel, Dave Frishberg and even Brian Wilson. "Sometimes meeting a musician transforms my way of thinking forever," he writes in the album's liner notes. "Meeting a songwriter teaches me more about the nature of life from having lived inside his music." (46)

RING-A-DING DING

While on an October 2004 tour of Japan with the Clayton-Hamilton Jazz Orchestra, John tossed around the idea of collaborating with conductor and bassist Jeff Clayton and drummer Jeff Hamilton, whom he had known and performed with over the past 20 years but had never recorded an album.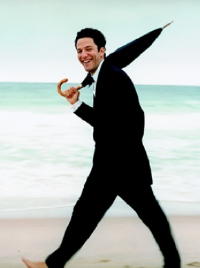 The result was a salute to Frank Sinatra called Dear Mr. Sinatra (with a nudge and a wink to John's similarly-titled tribute in the early '90s to Nat King Cole). Recorded over three days in Los Angeles with 20 talented musicians including Bucky Pizzarelli, the big band album is a selection of songs specifically written for Sinatra as well as some seldom-heart arrangements of Ol' Blue Eyes classics. "Nice 'n' Easy" features a new set of lyrics by Alan and Marilyn Bergman never recorded by Sinatra or anyone else. A rare Quincy Jones arrangement of "In the Wee Small Hours" originally written for Sinatra and the Count Basie Band was dusted off for the project, as was Don Sebesky's take on composer Cy Coleman's "Witchcraft."

"We made a conscious effort to pick songs that lent themselves well to the jazz idiom," John explains. "We wanted our CD to be less conventional than other Sinatra tributes. Many of the songs we chose were written for him and went on to become standards, rather than songs that he merely performed." (47)

John's personal vocal performance on the album has won over critics who may have wondered how he would be able to pull off Sinatra's impeccable phrasing.

"I didn't consciously think about singing like him," John reveals to New York's Journal News, "and more people have talked about the singing in a positive way than every before." (48)

As the Sinatra album was being mixed and prepared for marketing, John and his management team were approached by veteran radio man Don McCullough, the founder, producer and programmer of a radio network called Radio Deluxe. The all-standards music format of Radio Deluxe seemed to be perfectly compatible to John's extraverted personality and renown as a great entertainer. John and his wife Jessica Molaskey were signed on as hosts of their own weekly radio show, Radio Deluxe with John Pizzarelli.

First airing in a few markets in November 2005, the two-hour program has since been picked up by stations across U.S. and Canada. Recorded at Nola Studios in New York City, the show magically transports listeners into a deluxe living room overlooking Manhattan, sort of a theatre-of-the-mind trick reminiscent of 1940s radio. In the "living room," John and Jessica spin their favorite records, carry on informative, quirky and often-humorous conversations about the week's musical theme and always, always welcome guests buzzed up by their accommodating "doorman." To date, guests on the Pizzarellis' show have included the likes of Steve Tyrell, Stacey Kent, Peter Cincotti, Tony Danza, Regis Philbin, Ann Hampton Calloway, Kenny Rankin, Kurt Elling and the legendary Liza Minnelli.

"We originally wanted to do a cooking show. Kind of Playboy After Dark meets Molto Mario on the way to Seinfeld," John tells the Toronto Star. "I was going to wear this retro hostess gown," chimes Jessica, billed on the show as the Vocalist Deluxe, "and we'd have this fabulous loft apartment. Tony Bennett would drop by and tell us his favorite thing to eat was Mario Batali's gnocchi, and Tony would sing while Mario cooked."

"Fabulous idea," John laughs. "Only nobody wanted to put up the bucks to do it."(49) Thanks to the couple's warm, sparkling banter and intimate knowledge of the music and musicians features on the show, Radio Deluxe has become a bonafide hit that is bound to get even bigger. At the present, negotiations are underway to sign a deal for national syndication through New York's WOR-AM as well as finding a home on either satellite radio or a public broadcast network. (50)

As if having his own radio show, making hit records, starring in TV commercials and touring the globe did not keep him busy enough, John also manages to slate in time to write a monthly jazz column in Guitar World Acoustic magazine and work on his friends' recording projects, such as he did with fellow guitarist Rick Haydon on 2006's Just Friends.

"Rick approached me about making a duet CD with him for Mel Bay. I jumped at the chance because of our playing experiences together and our great friendship. It's a joy to make a CD with someone who shares the same interests in music and musicianship as Rick does." (51)


I LIKE TO RECOGNIZE THE TUNE

In 2008, John tipped his musical hat to the legacy of American composer Richard Rodgers with his CD With A Song In My Heart: John Pizzarelli Sings the Music of Richard Rodgers.

Rodgers was one of the most influential and prolific songwriters of the 20th century, writing over 900 songs and 40 Broadway musicals (52) and is perhaps best known for his collaborations with lyricists Lorenz Hart and Oscar Hammerstein II.

"A lot of his musicals are being revived right now," John says. "South Pacific is at Lincoln Center. Pal Joey is coming soon. There's a lot of Rodgers in the air. So it was just a matter of picking songs that I liked - things that would be interesting and make a nice package."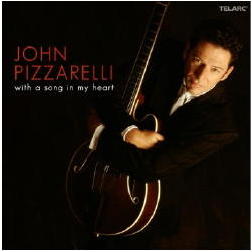 Hailed as a retrospective by "the master of freshness" (53), the project was especially notable for having reunited John with arranger Don Sebesky for six tracks (54), and features selections by both the John Pizzarelli Quartet (Martin Pizzarelli on bass, Tony Tedesco on drums and pianist Larry Fuller, who makes his first appearance on a quartet recording) as well as members of John's Swing 7 group, made up of the quartet plus journeymen musicians John Mosca, Tony Kadleck, Andy Fusco and Kenny Berger. Also putting their stamp on the album is Bucky Pizzarelli and Cesar Camargo Mariano. Among the 12 songs specially chosen are "Johnny One Note," "She Was Too Good To Me," "Mountain Greenery," "The Lady is a Tramp," "Happy Talk" and "You've Got to Be Carefully Taught."

"As a whole, I'm pleased with the entire record," John says. "I think the record has a nice arc to it. It's a really complete project from top to bottom. Sometimes you do a record and you need a couple of songs to fill it in, but this time, I'm really proud of how the whole record came out. Every song makes a complete statement." (55)

The critics agreed, including Variety, which praised the effort by saying "Pizzarelli has reached his place by being a student of the song and not the songwriters, his decision to revisit America's past neither forced nor nostalgic." (56)

What's next in store for John Pizzarelli? As his beloved Red Sox proved in the 2004 World Series - anything can happen. For now, what is certain is that music lovers want John Pizzarelli around for a long, long time and that this genuinely talented entertainer will leave a lasting impression on the jazz world.

"It would be great if people said, 'He always sang good songs,'" he quips with trademark wit, "…and that he was a great centerfielder."(40)


---

1) American Federation of Musicians/International Musician magazine, July 2003
2) All About Jazz interview by Don Williamson, April 2000
3) Bucky Pizzarelli: A Life in Music by Terence Ripmaster (Mel Bay Publications, 1998)
4) RCA press release for All of Me, 1992
5) Cabaret Scenes article by Les Traub, June 2004
6) 20th Century Guitar article by Lawrence Acunto, May 2004
7) Townonline.com interview by Ed Symkus, October 2003
8) Oregon Register-Guard interview by Fred Craft, August 2003
9) John Pizzarelli Fan Page interview, November 2000
10) Cosmik Debris interview by Shaun Dale, July 2003
11) Portfolio Weekly interview by Jim Newsom, September 2004
12) Mountain Stage interview, April 2003
13) New Jersey Star-Ledger interview by Zan Stewart, May 2004
14) RCA press release for New Standards, 1995
15) WKHR radio interview with Jerry Jelinek, January 2001
16) All About Jazz article by Don Williamson, October 2000
17) Santa Cruz Sentinel article by Charles Levin, November 2004
18) Bluebird Jazz/BMG profile, 1998
19) Playbill interview by Wayman Wong, October 2003
20) GQ article by Hali Helfgott, May 2000
21) RCA press release for New Standards, 1994
22) RCA press release for After Hours, 1995
23) Canoe.ca interview by Denis Armstrong, December 2001
24) RCA press release for Let's Share Christmas, 1996
25) Riverwalk Jazz profile on Riverwalk.org
26) RCA press release for Our Love is Here to Stay, 1997
27) Houston Chronicle article by Everett Evans, December 2004
28) Talkin' Broadway interview by Jonathan Frank, May 2003
29) Interview by journalist David Swan, 1998
30) Canoe.ca article by Joshua Ostroff, February 1999
31) Jazz Review interview by Suzi Price, April 2001
32) Jazziz magazine, May 2000
33) Wine Spectator article by Matthew DeBord, November 2002
34) RosemaryClooney.com
35) TimeOFF New Jersey article by Jillian Kalonick, September 2003
36) St. Louis Post-Dispatch article by Cleora Hughes, August 2002
37) Jazz Review interview by Carla and Jason Rupp, May 2004
38) Jazz Times magazine, July 2002
39) Jazz Review interview by Chuck Sudo, April 2002
40) Connecticut magazine, June 2002
41) John Pizzarelli Fan Page interview, December 2004
42) CBS News/60 Minutes II, September 2003
43) Georgia Strait interview by Alex Varty, December 2004
44) L.A. Times review by Don Heckman, April 2004
45) Amazon review by Lloyd Sachs, March 2005
46) Telarc press release for Knowing You, 2005
47) Telarc press release for Dear Mr. Sinatra, 2006
48) Journal News interview by Peter Kramer, July 2006
49) Toronto Star interview by Richard Ouzounian, March 2006
50) LA Times interview by Josh Getlin, July 2006
51) 20th Century Guitar interview by Robert Silverstein, May 2006
52) http://en.wikipedia.org/wiki/Richard_Rodgers
53) Talkinbroadway.com review of With A Song in My Heart by Rob Lester, September 2008
54) Telarc press release for With A Song in My Heart, August 2008
55) Hamptons.com article by Shelia Cosgrove Baylis, November 2008
56) Variety Review by Phil Gallo, August 2008



"Knowing John Pizzarelli" Copyright © Barbara Chabai - Reprinted on the John Pizzarelli Fan Page with permission of the author.