Home
---
The following are four interviews I was able to complete with John Pizzarelli and one completed by radio host Bill Pandozzi. They cover topics ranging from his early work to his more recent recordings and experiences.
---
Interview with John Pizzarelli (December 16, 2008)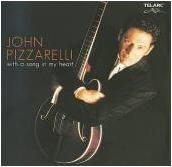 Tom: After a long absence, itís time for a new e-interview on the John Pizzarelli Fan Page. Iíd like to welcome you, John and offer thanks for taking time out of your busy schedule to answer some questions. Youíve been touring in support of your latest CD, "With A Song In My Heart". How has the recording been received so far?

John Pizzarelli: The tour has been terrific. Home now for the hollandaise. Terrific crowds everywhere. It's been quite inspiring.

T: Throughout your career, youíve performed songs from a large number of great American songbook composers. Of all the choices before you, what led you to choose Richard Rodgers as the subject of your latest CD?

JP: It was a managerial decision. The CD started out Johnny Mercer, then went originals (my idea), then Latin (Telarc idea), then stalemate, then Rodgers. My managers knew Bill Gaden at the Rodgers foundation and here we are.

T: How did you go about selecting material from Rodgersí huge songbook?

JP: Actually, I had a lot of the tunes in my head for a while. The two Chet Baker things (the title track and "Too Good to Me"), "Johnny One Note" (always a fave since the Bob Dorough record of it), "Happy Talk" (almost a cut on bossa nova) and "...Recognize the Tune (just a favorite of mine from Jonathan Schwartz's nightclub act in the late 80's) were all on my list from the start. There were a lot of suggestions, but finding the last few wasn't that hard.

T: You utilize a horn section, more specifically the Swing 7, on several of the cuts with arrangements by Don Sebesky. To what level did you collaborate with Mr. Sebesky on the ideas for the arrangements?

JP: I call Don, he agrees to do the session and the next day he has "Tramp" written! "I figured you'd do it in Bb," he said. I don't believe we talked more than keys over the phone. I did mention the shout chorus on song in my heart and it homage-ing Chet Baker's solo. Don had done THAT record so we were always on the same page.

JP: Has it been challenging replicating the arrangements when performing live without the horn section?

JP: It always is a little at first. In some respects, it never gets done (kalamazoo). But, for a change, we sat down and rehearsed what we would need to do to make the songs "pay off". Most of it is where to put solos.

T: I noticed that you referenced the small ensemble work of Marty Paich as an influence in utilizing the horns. As a huge Marty Paich fan myself, Iíd be interested in what you think of his work.

JP: LOVE, love, love Marty Paich, especially the work with Torme. I suggested we let the horns, bass and drums "drive" the rhythm section and let the piano and guitar be more of solo instruments. We sort of strayed from the Basie rhythm section sound of most of our CD's. I thought it worked really well.

T: On another topic, your Radio Deluxe show hosted in tandem with your wife Jessica Molaskey seems to have really hit its stride as of late. How do you find Radio Deluxe going these days?

JP: We are finding that too. We would love to have more guests, but we feel that there is something interesting about the flow of the show these past few months that really makes it interesting. We find that as we listen, we would like to know those two people in that living room.

T: How would you describe the concept of Radio Deluxe and how did the idea to do the show come about?

JP: Andrew Tenenbaum and Don McCollough brainstormed it i believe. As for the rest, it all happened after they turned on the microphones the first time. I said, "From high atop Lexington Avenue" and we were off. That was three years ago!

T: Youíve had a very impressive guest list for the show. Other than those who have already appeared, are there any "dream guests" that you would like to have on the show?

JP: Still looking for Tony Bennett, Diana Krall and Barack Obama.

T: After touring for most of your career with a drumless trio, youíve switched over to a quartet format within the last two or three years. What brought about the decision to make the change? JP: The Bossa Nova CD, specifically. Since then, we decided to keep Tedesco employed and it's been really terrific. I think it has given us a little more "weight" in outdoor venues and larger indoor ones. and I think it gives us more flexibility in general.

T: One look at your list of tour dates shows a very busy schedule. This has been pretty much the norm for you over the years. Are there any times when being on the road takes its toll or do you find yourself used to it as a way of life?

JP: As I get older, it gets harder. Once I am where I have to go, it's not so bad. The night before leaving is the hardest. The packing and making sure everything is in place - basses are where they should be, who will pick us up at the airport, are certain expenses covered or are they my responsibilty, etc. are the difficult things to collate. Playing the gig is the easy part. Missing certain school events are tough, but it IS what we do and playing and performing is my life and what I truly love to do.

T: In the past, weíve asked the obvious question about your past musical influences. I wonder if there are any artists who have emerged more recently that you admire?

JP: There are a ton of younger players that i really like: Davy Mooney - a guitarist from New Orleans, Harry Allen on tenor sax gets better with every note and he's already a genius, Aaron Weinstein on violin, Rick Haydon - a guitarist from St. Louis. I have gotten to record with all of these people and they are terrific.

T: Actually, maybe we could also revisit some other greats of Jazz guitar. Perhaps we could do a quick word association, with a word or two on the followings guitarists.

T: Joe Pass
JP: Marvelous solo guiatrist. Great single note "time"

T: Tal Farlow
JP: Knew the harmonies so well to songs. Very innovative.

T: Barney Kessel
JP: Such a varied career. From studio's to Oscar Peterson.

T: Herb Ellis
JP: Great work w/oscar. "Shakespeare Festival" CD is unforgettable.

T: Pat Metheny
JP: "The White Album" and "First Circle" are musts!

T: One other guitarist we should mention is Bucky Pizzarelli. As I pull out a lot of my old jazz records and CDís, Iím always amazed at how many dates Bucky was present for. What do you think are the reasons your dad was, and is, so often used by such a variety of artists?

JP: He just wants to play the guitar and he listens so well. He tries so hard to get your idea to come out of his guitar and he makes great suggestions when called upon. As reliable a musician there is on the planet.

T: While your early work is reasonably well documented, I donít think Iíve ever read what youíre first paying engagement was. What was your first professional gigÖwhen, where, and what type of music?

JP: My first professional gig was a party in Glen Hauenstein's back yard. I got $5 for it. I didn't want to be paid, but the bass player in our group said we should charge for our services. I was 13. My first union gig in New York City was at Michael's Pub, I believe. 1979, Summer, 4 weeks. The songs from "No, No, Nannette". I was the guitarist along with Allen Hanlon. It is where I learned to play rhythm guitar.

T: As we sit only four months removed from the release of "With A Song In My Heart", Iím wondering if youíre already starting to think about your next project?

JP: I am, but as you read in the beginning, it could change at any moment. Like the record business.

T: As always, thanks for taking the time to answer some questions and for doing what you do. Best wishes for your continued success as we head into the New Year.

JP: Thanks to everyone who listens and buys and supports what I do. I cannot do it without you and you are the ones who make life in music so fulfilling. Happy Holidays to all of you!
-John Pizzarelli December 2008


---
Interview with John Pizzarelli (December 16, 2004)

Tom: Welcome John. It's great to have you back for another Pizzarelli Fan Page e-interview. I'd like to start the interview by quoting a response you gave to a question in our first interview, going back roughly four years. You stated, "I don't know if I am ready to make an entire CD of Brazilian music, but it certainly is beautiful, genuine and heartfelt." Here we are, four years later, on the heels of your latest release, "Bossa Nova". What ultimately brought about your decision to take the step of devoting an entire CD and accompanying tour to Brazilian music?

John Pizzarelli: What really happened was the "stars fell into place", from starting to do the demos for the cd and then running into Russ Titelman who made the suggestion for the CD at the same time, to meeting Daniel Jobim through Russ, Russ's hiring of Paolo Braga for drums and my meeting Cesar Mariano. These all contributed to the excellence of the cd. The "stars" made sure we had all the right ingredients and it doesn't always work that way.

T: Ever since the early Byrd, Getz, and Gilberto recordings, the bossa nova has had a significant influence in jazz. Why do you think American jazz musicians have embraced this music so strongly over the years?

JP: Melodically its so beautiful and the songs are challenging in some respects yet are wonderfully playable.

T: You've been touring in support of the recording since this past spring. What has the reception been among an audience that is more used to hearing your interpretations of the Great American Songbook and swing infused original compositions?

JP: I think the presence of Daniel jobim gave the show a focus. We would play 40 minutes of "jazz" in some venues before the bossa stuff and that was smart. Daniel's presence was what helped us "sell" the show to the die hard fans.

T: You even took this tour to international venues, most notably to Brazil. What was it like to perform this music in its country of origin?

JP: Well, Brazil has certainly been a favorite of ours over the years, but this year was especially great. We brought drummer Paolo Braga, as well as Daniel jobim with us and it was really a memorable trip.

T: Some of your Bossa Nova shows have included well known Brazilian musicians such as the aforementioned Paulinho Braga, Cesar Camargo Mariano and Romero Lubambo. Were there some added musical challenges incorporating these musicians into your typical trio setting?

JP: We all hit it off so well in the studio that the road really worked itself out. Everyone brought their personalities to the music and the Brazilians embraced it and let us know we were on the mark.

T: Stepping back a bit from "Bossa Nova", you had another recent release from Telarc called "Live at Birdland", celebrating the Tenth Anniversary of the John Pizzarelli Trio. In this day and age, ten years is a long time for a group to be together. What's the secret of the Trio's longevity?

JP: Ray, Martin and I have really one thing in mind and that is to play great music. We really are three hard-headed people, but on the bandstand the personalities come out in the music and the music flows. It keeps working and I am happy about that.

T: I think one of the great things about "Live at Birdland" is there's almost nothing cut from the shows, giving the listener a real sense of what a John Pizzarelli Trio club set is like. In addition to the great music, all the banter and stories are there. Usually a record company will cut most of the "in between" comments. Was it determined right up front that just about everything would be left in?

JP: I wanted it to be an "all in" cd. They agreed. If I was going to make a live cd, I HAD to put the patter on it. Its as much of what our shows are about as is the music.

T: I've noticed that you've added a special symphony tribute to the great Harold Arlen as part of your repertoire. Is this a straight ahead presentation of Arlen compositions?

JP: I was going to get a lot of different arrangers to put together an "all star" presentation of Arlen material. As I talked to Don Sebesky one day, he said what are you doing, I explained and he said "I'll do it"! it really is a wonderfully clean and simple show that brings across the genius of those great Arlen melodies.

T: Where do you rank Arlen among the composers contributing to the Great American Songbook?

JP: Well, each member of that fraternity is so special it's hard to rate them, but his personality certainly comes out in the music.

T: In the fall of 2003, you had the opportunity to lead a 40 member live orchestra at Radio City Music Hall in a special tribute to Frank Sinatra. It was quite a show, utilizing vintage video, choreographed presentations, giant "rat pack" puppets and of course, the Rockettes. We still get emails to the fan site asking if this show will be revived or perhaps released on DVD. What was the whole experience of appearing in this show like?

JP: It was a thrill of a lifetime to be on that stage and see 6000 seats filled not to mention to see Sinatra larger than life in front of you and then to play those Nelson Riddle arrangements!

T: It must have been quite challenging, pulling everything together in such a relatively short time.

JP: I was quite a daunting task, but Des Mcanuff really worked hard within his limits to make it happen.

T: Is there any chance this show will pop up again at some point in the future?

JP: I still hear things, as Deniro would say.

T: I understand you've already recorded your next Telarc release. Can you share any details with us?

JP: The CD Knowing You will be released Marth 22nd with songs including, The Shadow of Your Smile, Quality Time, Ain't That a Kick in the Head and Say it Over Again. These are timeless standards written by Johnny Mandel, Alan Bergman, Jimmy mchugh, Fran Loesser, Malby and Shire as well as two originals. All of these songwriters are people who directly or through their estates, I have met over the years and I felt it was time to salute them and thank them for their great music. I did this also not just with the trio, but with musicians I've worked with over the years who have been great influences on my music - Harry Allen, Cesar Mariano, Ken Peplowski, Bucky, Martin, Ray , Tony Tedesco, Larry Golding and my wife Jessica.

T: It appears Pizzarelli fans will be in for another treat this spring. As always John, thanks for taking the time to share your thoughts with the always growing throng of Pizzarelli fans throughout the web universe.

JP: Thanks again for being so supportive. Happy Holidays!


---
Interview with John Pizzarelli (November 6, 2000)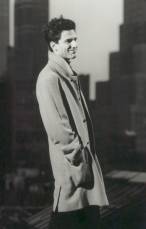 Tom: Most questions cropping up among your many fans at the moment relate to the upcoming Let There Be Love. Would you tell us about this latest project and what your thought process was in selecting the tunes?

John Pizzarelli: We set out to make a CD with a "mood". We wanted to make a "torch song" kind of CD with a romantic edge as opposed to a melancholy one.

T: I noticed the accordion and cello among the listed instrumental accompaniment. How are these instruments worked into the CD?

JP: Those instruments were used on one song, Da Vinci's Eyes written by Jessica Molaskey (my wife) and myself. I wanted the song to have a different color and Don Sebesky, the arranger of that song, helped me accomplish that. Dominic Cortese played the accordion (long time family friend and full time master accordion player; see "Scenes from an Italian Restaurant") and Jesse Levy played the cello.

T: Telarc certainly has a reputation for stellar audio quality on their recordings. Has this been your experience in your two recordings with them thus far?

JP: I think this CD sounds even better than the first one we made for Telarc. There will even be a "surround sound" version of this CD next year.

T: You seem to be popping up on a few recently released CDs. The soundtrack for Two Family House includes five tunes performed by you. Are all of these with the trio or is there any additional instrumentation?

JP: We added Randy Sandke for I'm Confessin' on muted trumpet. Otherwise, I believe it's just the trio. I sang one song, Lonely for You with a different background, but I have not heard it yet! Haven't seen the final cut of the movie either!

T: I also noticed you contributed to actor Tom Wopat's recently released In the Still of the Night. What tunes do you perform on that CD?

JP: I believe I am on Where or When, In the Still of the Night, Ruby, I play a solo on that one and two others I think. My dad plays on the first song Let's Fall in Love. Russ Titleman produced that CD and meeting him on these dates led to him hiring me to play on the new James Taylor CD. I did two songs for that one. One called Mean Old Man and the other was the bonus track Have Yourself a Merry Little Christmas.

T: I understand you'll be touring in tandem with Maureen McGovern shortly. How did that collaboration come about and what format will the concerts take?

JP: We have been looking to work together for a while and finally this tour opportunity popped up. The trio will probably open the show and Maureen will close. It looks to be great! We'll be going to a number of places we haven't been to before.

T: You've credited Nat Cole as a main influence. Is there a specific Cole recording that was particularly influential in your development as a musician?

JP: The first one's I bought were The Best of the Nat Cole Trio Parts 1 and 2 (records). I like the CD with Shearing and the After Midnight CD. All gems - material, singing, swinging. It's all there.

T: Overall, are you more attracted to Cole's trio recordings or his work with big bands and strings?

JP: I think I own more of the "small" group CD's and records, but it doesn't mean I am partial to one or the other. I love A Portrait of Jenny, LOVE, Red Sails in the Sunset, Mona Lisa and so on.

T: On a similar vein, what are some specific recordings by other artists you've admired, that have had an influence in your style and direction?

JP: Kenny Rankin album with Don Costa charts is terrific. Amoroso by Joao Gilberto is a MUST, Michael Franks' Sleeping Gypsy, any Pat Metheny record, Sinatra's Sinatra and Strings, the record Tal by Tal Farlow, and Mellow Guitar by George Van Eps to name a few. Also, The Guitar Album on Columbia which features a side of music by my dad and George Barnes, also a must.

T: In our last interview we talked a bit about the techniques of playing in the drumless trio setting. This time around, I'd like to ask you about playing in a duo setting. In your recent Blindfold Test in Downbeat Magazine you commented on a Herb Ellis/Joe Pass duo recording, noting that they didn't seem to leave much room for each other to play. You've recorded several duo sessions with your father. What approach do the two of you take when you play together and what are some of the challenges inherent in guitar duo playing?

JP: Basically,learning to be an accompianist is terribly important. Staying out of each other's way is key and growing up with the guy you are playing with and having him dock your allowance if you don't stay out of his way or if you play the wrong chords! :-)

T: Did you hear the recent Jim Hall/Pat Metheny duo recording and, if so, what did you think of it?

JP: I have only heard a few tracks. The Farmers Trust is amazing.

T: You've recently begun playing on a Moll custom 7-string. Would you tell us a bit about the instrument? What you like about it?

JP: I love the sound and playability of the guitar and its affordability. It's a spruce laminated guitar.

T: In addition to playing, singing, and composing, you've also done some arranging such as on the recent CD Brazil. Is arranging something you'd like to do more of?

JP: I just really wrote out some chords and an ending (on Dindi). I'm good at starting the ball rolling with what I want on a tune, but it is the arrangers that really make those ideas come to musical life.

T: You've performed around the world: Europe, Asia, South America. How is jazz received in those venues as opposed to in the U.S.?

JP: I think each place you mentioned is different yet the common thread is the love of the music. Europeans and South Americans get involved in the music. Lots of clapping and overt enthusiasm. The Asians (Japanese being the only ones I have played for) are quieter audiences, but only because of the respectful nature they have for the music. They are just as "excited" but quieter until the end of the show when they really show their appreciation.

T: Your trio regularly performs in a variety of venues, from jazz clubs, to festivals, to concert halls. What setting do you most enjoy for performance? And even more specifically, is there a particular location you've played that's a favorite of yours?

JP: Every venue brings a different excitement and enjoyment. I love all the different sizes, the intimacy of a club, the response of a large audience in say, Montreal at the Place Des Arts, the Brazilians singing Girl from Ipanema along with the trio (amazing!) and the singular, rhythmic clapping of Europeans. It's all great!

T: This may be a premature question in light of the fact that your new CD is not yet released, but have you already planned what direction you'll be taking musically in the near future and/or what type of CD you might like to record next?

JP: I have had some discussions with Telarc, but I'm not gonna let them out of the bag yet. I don't want to jinx 'em.

T: As always John, thanks for taking the time out of your busy schedule to share your thoughts with the many Pizzarelli fans on the web.

JP: It's always a pleasure. Thanks for your support!


---
Interview With John Pizzarelli (August 3, 2000)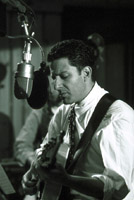 Tom: Welcome, John and thanks for taking the time to answer some questions for your many fans out there in the web universe. You were certainly born into a family of jazz but I recall reading that you played a lot of different types of music growing up. When did you decide that playing jazz was going to be your life's work?

John Pizzarelli: I think the turning point for me was hearing the Nat Cole Trio and realizing they did everything in music that I wanted and loved; they swung, they had fun, they played great songs of all types and they were spontaneous.

T: You had the opportunity to work with some legendary jazzmen early in your career. People like Zoot Sims, Clark Terry, Milt Hinton, Dave McKenna and of course your father Bucky. What was it like to work with musicians of their stature on your early LPs?

JP: I never realized how great those musicians were when I was working with them or I would have never been able to work with them. I mean, they were my dad's friends and I knew they were great, but I didn't have a sense of their place in jazz history until after I worked with them. Slam Stewart, the great bass player, is the best example of that. He stayed at our house and would jam with us and have fun, and I never realized all the great musicians he worked with or his place in jazz history. He was just my dad's friend!

T: You play a seven string guitar. I would guess that it provides more versatility than a standard six string. Is that versatility most pronounced when you're accompanying your own vocals on solo guitar? What other advantages are there to a seven string?

JP: I think you hear the 7th string the most on my records when I'm playing the verse to a song by myself, as you mentioned. The best example of how it is used is on our CD Contrasts where you hear dad play a solo and me accompany him and vice versa. It allows a broader range and gives the guitar a fuller sound, in my opinion. Like the "lap piano" that the guitarist who invented the 7th string, George Van Eps, envisioned.

T: Your vocal style has evolved into a very unique, expressive sound. When you started as a guitarist, did you incorporate vocals right from the beginning or did that come later?

JP: I always liked singing and playing and as I said earlier, Nat Cole is really why I ended up doing what I did. The material that Nat was singing was unlike Frank Sinatra's. There were rhythm tunes and pretty ballads that were not from the same songbook in a sense. Songs like A Portrait of Jenny, This Will Make You Laugh, Frim Fram Sauce, Baby, Baby All The Time, etc. It was in learning these songs that I started to incorporate vocals into my "act" as it were.

T: In addition to Nat Cole, who are some of the less documented influences in both your guitar and vocal work?

JP: I think for my guitar playing, Les Paul, George Barnes, and Oscar Moore have been amongst the top influences for me (after my dad) and as for vocally, I seem to have taken a lot from different places, from Nat to Chet Baker to Kenny Rankin and Michael Franks to Sinatra and Tony Bennett.

T: The majority of your recorded work has been with your drumless trio. What are some of the differences in working with this instrumentation as opposed to working with a drummer and/or a big band?

JP: There is just so much needed from each member of the trio when you work without drums. It keeps the whole group on its toes because each player is so exposed. There is no "hiss" of a cymbal to hide behind or "figures" to set up entrances. Your time has to be "on top" and you cannot relent. I hope that makes sense.

T: George Shearing once noted that one of the reasons he shed his quintet in favor of a piano-bass duo during the 70s and 80s was that he could play a lot freer "without those fetters that drums frequently toss around one's neck." Does the absence of drums from your group give you more freedom, more space to play?

JP: I don't think it is a freedom but I think I covered it in my last answer. I think it is an intimacy that makes people listen a little more in clubs and concerts. It has a chamber music air to it.

T: Ray Kennedy has been your regular pianist for some years now and really seems to compliment your style very well. How did you hook up with him?

JP: Ray played some gigs around New York in the early 90s with my dad and he mentioned his name to me when I was looking for a new piano player.

T: Ray, your brother Martin and yourself seem to have complete compatibility as a group. Did that develop over your years playing together or did it happen from the start?

JP: I gave Ray some tapes of concerts and club dates we had played and then we had a rehearsal. He learned some of the originals, the song Naturally comes to mind, and swung the daylights out of them and we glued him to the piano bench where he has been ever since.

T: You recently signed with Telarc International and released your latest solo effort, "Kisses in the Rain" for that label. How has your experience at Telarc been so far?

JP: Telarc has been terrific. I think the next CD, Let There Be Love will be a new step up for us. The sound and feeling of the record really communicate the title and I don't know if we could have made this record anywhere but Telarc because of their live recording process. I think you get the studio feeling right from the CD.

T: On Kisses in the Rain, you noted that you wanted to get a "live" feel to the recording, Would you elaborate on that a little?

JP: We had been playing a lot of the material you hear on Kisses... on the road for years and never got to record them. So in the studio for a lot of those songs, we just counted off the tempos and played like we were in concert. We even programmed what songs were next as if we were playing live, pacing the session like a concert i.e. jump number, swinger, flag waver, ballad, swinger, instrumental, list song, etc.

T: Kisses in the Rain includes a nice mix of original compositions and timeless standards. What is your thought process in selecting material for a recording? And I guess connected to this question is What attracts you to a particular tune?

JP: With all the material we select, I guess I look for a lyric that will connect to a listener. The same thing with writing a song. the combination of lyric and melody is so important and we take our time in finding (and writing) material that will be special.

JT: You just released a recording with Rosemary Clooney called "Brazil". How did that collaboration come about?

JP: I have worked with Rosie over the past ten years as a sideman, usually subbing for my dad at the Rainbow and Stars in New York City, and we developed a relationship that turned into my singing with her on the Do You Miss New York? CD of hers and later on this new one. She is a true pro and sitting next to her and watching her work is one of the true highlights of my professional life.

T: In listening to your playing and vocals on "Brazil" it seems that you have a natural affinity for the bossa nova. I recall on your Beatles CD that "Here Comes The Sun" was done as a bossa nova arrangement as was S'Wonderful from "All of Me" What are some of the qualities that attract you to Brazilin music and is an album of Brazilian music something you wanted to do for a long time?

JP: The CD Amoroso by Joao Gilberto was a major inspiration to me. It inspired my The River is Blue and the songs you mentioned. I love the energy of the Bossa Nova and I have loved playing in Brazil, where we have enjoyed a great amount of success. They have truly embraced our "swing" sound and we've had a lot of fun playing in Rio and Sao Paolo. I don't know if I am ready to make an entire CD of Brazilian music, but it certainly is beautiful, genuine and heartfelt.

T: What are the differences in playing bossa nova as opposed to say bop or swing? Do you structure your solos differently?

JP: I think there is no difference. The time is what you always have to be aware of. I feel when you stay on top of the beat you can play any kind of music.

T: When I think of Brazilian music on guitar, Charlie Byrd is one of the first players to pop into my head. Did he have any influence on your guitar work as it relates to Brazilian music?

JP: Not as much as the Getz/Gilberto record and the Jobim records and Amoroso

J: You mentioned earlier that a new Telarc CD is in the works. Can you share some details with us?

JP: The idea of the new CD was to create a love mood as opposed to a torch or love lost kind of CD.

T: When is it scheduled to be released?

JP: It will be released in November but with an eye towards Valentine's Day. We made this CD to accompany a tour we are doing at the start of next year with Maureen McGovern that will take us through April. You have already posted a lot of those dates and there are more to come. If we did not make the record now, we would not have gotten into the studio until next May and that, for me, would have been too long a wait between CD's.

T: Sounds great. I'm sure the readers out there, like myself, will eagerly anticipate its release. Thanks again for your time, John and best wishes for your continued success.

JP Thank You!



Return to Top
---
Interview With John Pizzarelli (By Bill Pandozzi, 1999)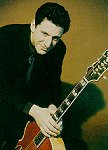 The Following is an interview completed by the late Bill Pandozzi, former host of All That Jazz on WRIU. The interview was completed just before a John Pizzarelli set at Foxwoods Casino in 1999. Soon after the interview, I had a conversation with Bill and he graciously allowed its transcription and reprint here.

Bill Pandozzi: Hello, this is Bill Pandozzi, host of All That Jazz<. We're at Foxwoods Casino and I'm talking with a prime leader in the revival of the Great American Songbook, the brilliant young jazz guitarist and singer who brings new spirit to these songs, John Pizzarelli. John, it's a pleasure to meet you and thanks for sharing some time with us.

John Pizzarelli: It's my pleasure.

BP: I heard you just signed a contract with Foxwoods. How long is that for?

JP: Oh, I think we've signed on to do a number of shows over the next two years.

BP: Our signal gets out to all of southeastern New England and from the calls I get on the radio show, you have quite a following in this local area. And you have a musical family with your dad, of course, Bucky Pizzarelli and your brother Martin on bass. How deep does the musical family go back? I read on an album that you had a couple of Uncles who inspired you as a kid.

JP: Yeah, my father's uncles Pete and Bobby Dominic taught him how to play the guitar. Peter was the oldest brother, I think of about six or seven children in that family. He stayed in New Jersey and just played club dates in the area and sort of supported the family. He worked during the day at a regular job and then played banjo and guitar on the weekends, but his youngest brother, Bobby Dominic, he made go out into the world and play with the bands. He played with Bob Chester and Clyde McClure and Buddy Rogers and he went all over the place. When Bobby Dominic would come off the road near Paterson, New Jersey, where my dad lived, he would show my dad a couple of new chords and they would all get together and play. So when it was my turn to learn at about seven years old, they sent me to my Uncle Bobby. I went and took banjo lessons from him and learned when I was young. So it's about three generations of guitar players.

BP: I can understand the musical background, but who got you inspired to sing.

JP: Well, the reason I started doing what I was doing was because I heard the Nat King Cole Trio. My father said, "go get those records." It was about 1980. So I bought all the Nat King Cole records I could find because I loved the sound of the group and I loved the material that they were singing because that material was all about jazz, and about having fun and also swinging.

BP: It shows on the CD that I have, Dear Mr. Cole. I understand you have a follow up to that one coming out.

JP: Yeah, the new one out now is called P.S. Mr. Cole which features Ray Kennedy on piano, my brother Martin on bass and it's just more of the Nat King Cole material. It's only been out a couple of weeks. We have another one coming out next February on the Telarc label called Kisses in the Rain and it's the same group and a lot more great standards.

BP: There's a couple of song I like that you've done and you wrote these songs: Headed Out to Vera's.

JP: Yeah, I'm gonna do that tonight. Vera's gonna be here.

BP: That's your Aunt?

JP: That's my Aunt. My father's sister.

BP: And I'm Your Guy and Be My Baby Tonight. These are songs that you wrote. Any inspiration on writing these particular songs?

JP: Sometimes it's finding a groove for a tune. Like Be My Baby Tonight. We just wanted to find an In a Mellow Tone groove. And on Headed Out to Vera's we wanted a blues song, based on blues changes so I wrote a song about my Aunt Vera with my buddy Grover Kemble. And I'm your guy is like an old rhythm tune, similar to a lot of the old Nat King Cole songs.

BP: When you sing those types of songs, I can't stop playing them.

JP: Well thanks.

BP: I also noticed David Frishberg songs. Those fit you to a "T" like Zoot Walked In. He was a friend of yours?

JP: Oh yeah, my dad and Zoot Sims worked together many times in New York City at a lot of different clubs and also with Benny Goodman. Actually, the day after Christmas was always Zoot Sims day in our house because he only lived about 20 minutes away. He'd come over, eat food and play my sister's band clarinet after dinner.

BP: On one of your latest albums, Our Love is Here to Stay, you sing Johnny Mercer's song Dream. I love that song and the way you do it is like nobody else.

JP: Well, it's a great song and I did a whole Broadway show that I was part of called Dream with Margaret Whiting. So when we made Our Love is Here to Stay we included that song as a tribute to Johnny Mercer because we had sung all of his songs in that show. And that's why when you hear our record of it there's a little tribute that we wrote to Johnny Mercer.

BP: Right, it's almost like a vocalese type of thing in the background.

JP: Right.

BP: You toured with Sinatra I understand. Give me some input on how you felt about that, especially the first time when you actually worked with the man.

JP: We opened for him in five cities in Germany and we also did about twelve concerts in the United States opening for Frank Sinatra. It was a great feeling to be around a building he's in because the whole molecular structure of the building changes when he enters the room. Everybody'd be having fun and running around. You'd see guys talking and having a cigarette and waiting for the gig to begin. And the second Sinatra showed up in the place it all changed. In Germany, we played for 10,000 people in one venue and it's amazing the electricity that's in a place, an outdoor venue, to see all those people coming to hear Frank Sinatra who don't even speak English.

BP: Is it true he took one look at you, and he said, "we gotta feed this guy."

JP: Yeah, he said to me, "eat something, you look bad." It gave me something to say.

BP: John, it's been a pleasure talking to you. I really appreciate the time you spent with us. We're looking forward to seeing you on many more occasions here at Foxwoods.

JP: My pleasure and hello to all my friends in southeast New England.



Return to Top