Home
---
John Pizzarelli's first efforts as a leader were recorded on the Stash label. These records include I'm Hip (Please Don't Tell My Father), Hit That Jive, Jack!, and Sing! Sing! Sing! While most of John Pizzarelli's recorded work is readily available on CD, these early works take a little more effort to locate. Selections from I'm Hip and Sing! Sing! Sing! were released on a 1992 Stash CD under the title Best of John Pizzarelli: I Like Jersey Best. Hit That Jive, Jack! can be found on a 1995 Stash CD under the same Hit That Jive... title. More recently, each of these titles were re-released on CD in Japan and can be found for sale as imports in the United States.

This page is for those of you who have not had the opportunity to see or hear these early recordings. Included here are summaries and liner notes.

John Pizzarelli adds these reflections on his early Stash recordings: "I think these are decent representations of my singing in my 20's and the flaws are obvious. There are, however, some standout performances throughout, namely, Dave McKenna's playing on the ...Jive Jack LP, Eddie Daniels on clarinet on the title track of Sing, Sing, Sing and Bucky's playing on the first two. Sing, Sing, Sing is the weakest of the three. I think it was trying to be a lot of different records at the same time and budgets being what they were it wasn't much of anything. Still, The River Is Blue on I'm Hip... is one of my faves still, as is the title track of Hit That Jive... and my dad's working trio of him, Kassoff and Bruno swings wonderfully on that first album, especially on Man With a Million Dollars".
---
I'm Hip - Please Don't Tell My Father (Stash, 1983)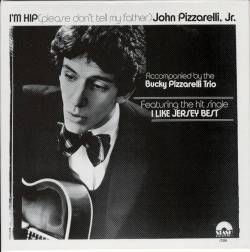 Side A
Route 66: (B. Troup - 3:44)
I'm Hip: (D. Frisdhberg - 2:52)
A Man With One Million Dollars: (Wood, Cavanaugh, Cunningham - 2:55)
Straighten Up and Fly Right: (I. Mills, N. Cole - 2:13)
Popsicle Toes: (M. Franks - 3:28)

Side B
I Like Jersey Best: (J. Cosgriff, T. Bernardi - 4:15)
Have Another One, Not Me: (J. Mooney -3:34)
For Sentimental Reasons: (W. Best, D. Watson - 2:46)
The River Is Blue (J. Pizzarelli, Jr. - 3:12)
Here's Looking At You Kid: (John Pizzarelli, Jr. - 2:26)

Musicians

All Vocals: John Pizzarelli, Jr.
Solo Guitar: John Pizzarelli, Jr. (A-2, B-5)
Guitar: Bucky Pizzarelli
Piano: Russ Kassoff
Bass: Jerry Bruno

Executive Producer: Bernard Brightman
Associate Producers: Yolanda and Lou Ginsberg
Cover Layout: Lynn Tesser
Cover Photo: Naum Kazdham
Engineers: Mike Lobel and Gary Pozner
Recorded: May 1983 at Lobel Productions
Liner Layout: Madeline Sloan
A & R: Rihard Ables

Liner Notes: To one who sees American music as a continuum, rather than as a discrete grouping of separate styles, this debut album by a young musician who understands and appreciates all of the music of the past half century is heartening indeed.

This is the first extended recorded showcase for the talents of John Pizzarelli, and his first record date as a leader. John has had some exposure as a singer and guitarist in his home state, New Jersey, and has appeared and toured with his father, John Sr., better known as Bucky, who is one of the most respected guitarists in jazz. Having grown up in a musical environment whose jazz tradition now spans three generations, it is not surprising that John became a fine guitarist. The extent and variety of his talents, however, are remarkable. In addition to the singing, composing, and seven-string guitar performances displayed here, John is a trumpeter, and has appeared as an actor on the TV soap operas, "Ryan's Hope" and currently, "All My Children," where he has been a member of "The Valley Dukes," a musical group which is part of the ongoing sudsy saga.

My first exposure to John's music came when I wrote the liner notes for a guitar duet album he made with his father in 1980 (2 x 7 = Pizzarelli, Stash 207). Since then, the Pizzarelli's have toured the U.S. as part of Benny Goodman's group, and John has made several appearances at the Hotel Pierre, where Bucky has been working with his trio off and on for several years. Bucky and the trio accompany John on all the tunes here, except two - John accompanies himself on seven-string guitar on I'm Hip and Here's Looking At You Kid

Talking about the material they chose for this album, Bucky remarked, "I've always loved the sound of the old Nat Cole trio. He was just so tasteful and musical. I try to get some of that sound in my trio, which has the same drumless instrumentation - just guitar, bass and piano."

The particular tunes were selected, says John, "Because I wanted tunes which had a little twist, something a little different, with some wit in the lyrics and the music. I love Nat Cole, too. I've been singing Straighten Up and Fly Right for years, and I sang that number and Popsicle Toes during an appearance at the Pierre with my father. I've been performing the original tunes and most of the other material at a musicians' gathering place in Mahway, NJ, called Nobody's Inn."

Two of the tunes, A Man With One Million Dollars and Have Another One, Not Me, were part of the repertoire of the late Joe Mooney, a New Jersey based pianist / organist / accordianist / composer / singer, who was a musicians' favorite and personal friend of Bucky's. "I used to site in with his quartet when Joe appeared in the area. I always liked the sound and feel he got. I worked and recorded with Nat, too. Their approaches (Mooney's and Cole's) were similar."

Of his own singing, John says, "I sing for fun. I try to get a light, direct, sincere feeling. I know I don't have a big voice, but I've been influenced by people like Nat, Michael Franks, and Slam Stewart - musicians who emphasize phrasing and sincerity over vocal mannerisms."

Bobby Troup's Route 66 was a big hit for Nat Cole and the trio, and in addition to John's fine reading of the tune, I was struck by Russ Kasoff's evocation of Nat's piano style in this solo and accompaniment.

I'm Hip, the title tune, was written by David Frischberg and is a whimsical resurrection of that extinct species, the 40s hipster. The satire extends to the music - notice the arch "modern" chords and the quote from Dizzy's 1945 introductory vamp to "All The Things You Are."

A Man With One Million Dollars is typical of the material employed by the late Joe Mooney, and is a tune which deserves wider recognition.

Straighten Up And Fly Right was one of Nat Cole's earliest hits and is a Cole original. John's voice is reminiscent of Nat's without being imitative, and Kassof's piano again captures the blend of drive and subtlety which marked the influential Cole style.

Popsicle Toes, the delightful little blues novelty by Michael Franks, is an ideal vehicle for John's light, vibrato-free delivery. "I sang this tune at the Pierre and it went over well. I love Michael Franks' material and this is a good tune for me."

I Like Jersey Best, a hymn to that much-maligned state, features ascending key changes after each chorus bridged by quotes with regional references ("Jersey Bounce," "Hackensack," and "Them From New York-New York").

Have Another One, Not Me, a Joe Mooney original, is a tune whose bitter-sweet message rewards relistening.

For Sentimental Reasons was a smash for Nat Cole and later for Sam Cooke. "I tried to give this tune a straight reading. It's a beautiful tune and I thought it deserved it."

River is Blue came to be during a period when I was feeling kind of down personally, and at the same time had been listening to Joao Gilberto's Amaroso album. I tried to capture my mood and the dreamy feel of Gilberto's music."

Here's Looking at You Kid grew out of John's fascination with the Bogart/Bergman film classic "Casablanca," and its lyrics contain multiple references to the screenplay. On this tune, and I'm Hip John's style on the seven-string guitar is on display, and those who are familiar with Bucky's use of that instrument will note that John's approach is slightly different. Bucky generally uses the extra "A" string in the bass to establish a self-accompanying "walking" bass line, while John uses the extra string to spread the chords primarily, using the "walk" effect more sparingly. "The acoustic sound on Here's Looking at You, says John, "is a result of the proximity of the guitar to the mike I was singing into. There's a double feed there: the direct electronic feed and the sound of the plucked strings, which the vocal mike picks up."

The eight selections on which John is backed by the trio of this father on seven-string guitar, Russ Kasoff's piano, and Jerry Bruno on bass are models of taste and musical empathy.

And there they are. Ten selections which span 40 years of musical and social history, linked by the musical intelligence of a young man who has taken advantage of his talent and background in a way which should please the public and his fellow musicians. Good luck, John. Let's hear more soon.

-Bill Farrar, May 1983

© 1983 Stash Records

---
Hit That Jive, Jack! (Stash, 1985)
Selections: 1. Hit That Jive, Jack! - 2. Better Run Before It's Spring - 3. The Frim Fram Sauce - 4. Davenport Blues - 5. Racing With the Moon - 6. Nobody's Heart - 7. This Will Make You Laugh - 8. Haven't We Met - 9. Baby, Baby All TheTime - 10. You're Nobody Till Somebody Loves You.

Musicians: John Pizzarelli, Jr.: Guitar, Vocals and Arrangements.
On 3, 7, 10 the Personnel is: Dave McKenna, Piano - Bucky Pizzarelli, Guitar - Jerry Bruno, Bass - Butch Miles, Drums.
On the remaining tracks, the Personnel is: Stephen Ferrera, Drums - Gary Hasse, Bass - Hugh McCracken, Harmonica.

Liner Notes: During the maelstrom of divergent brands of popular music and jazz that was the mid-40s, there existed a variety of performer who belonged to both categories. Joe Mooney, Slim Gaillard, Rose Murphy, Mal Fitch, Page Cavanaugh, Bobby Troup and Matt Dennis not only sang ballads, rhythm numbers and novelties, but played instruments in jumping little bands (trios and larger) that emphasized entertainment as much as the big bands did. Sadly, changing trends forced this breed into extinction, and even the greatest of these men, Nat King Cole, had to conventionalize his singing into a more mainstream approach.

John Pizzarelli, on his second vocal album, not only pays homage to Cole and the others, but shows how their approach is still relevant to the music and the mood of the 80s. "The Nat Cole Trio songs are just wonderful," says John, "and it was the thrill of a lifetime to work with Butch Miles and Dave McKenna. Together with Bucky (John's guitarist/father) and Jerry Bruno they make up the best rhythm section around today bar none!" This Will Make You Laugh, one of five Cole pieces included here, was recommended to John by radio personality Rich Conaty, with whom Pizzarelli worked on WNEW's New York Tonight. "The more modern numbers offer a good representation of different things I like to play," John reports. He learned Racing With the Moon from the sheet music before having heard Vaughn Monroe's hit record of the song, and Haven't We Met, which demonstrates his enthusiasm for Kenny Rankin's music, was one of the first tunes he ever played professionally. Bassist Gary Hasse co-arranged Rogers and Hart's Nobody's Heart along with John.

In addition to singing, playing guitar and handling the keyboard work on the five sides with his trio (Hasse and drummer Stephan Ferrera, abetted by harmonica player Hugh McCracken on a couple of tracks), John also composed two original works on this record. Bix Beiderbecke's piano sketches and the state of Iowa itself mutually inspired Pizzarelli's Davenport Blues and he wrote to a lyric by Linda Rose.

So What we have here is an artist who not only knows his roots, but whose work is a statement of their artistic validity. More than updating an old tradition, John Pizzarelli has seen the past and makes it work today.

Will Friedwald

© Stash Records

---
Sing! Sing! Sing! (Stash, 1987)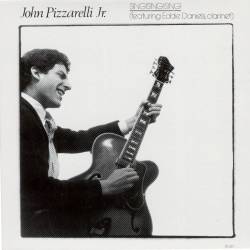 Side A

Zing! Went the Strings of My Heart (Hanley; 2:40)
John Pizzarelli, guitar
Ken Levinsky: DX7 electric piano
Gary Haase: electric drums
Stephen Ferrera: drums

I Guess I'll Have to Change My Plan (Dietz-Schwartz; 2:24)
Ken Levinsky: Piano

I Still Think About You (John Pizzarelli, 2:35)
John Pizzarelli: Guitar
Ken Levinsky: synthesizer, electric piano
Gary Haase: electric bass
Stephen Ferrera: drums

Knock Me A Kiss (Jackson; 1:59)
John Pizzarelli: trumpet and guitar
Ken Levinsky: piano
Bucky Pizzarelli: rhythm guitar
Gary Haase: bass
Stephen Ferrera: drums

Couldn't You Read My Mind? (John Pizzarelli, Amanda Homi, John Pizzarelli; 4:12)
John Pizzarelli, guitar
Eddie Daniels, tenor saxaphone
Amanda Homi, background vocals
Ken Levinsky: electric piano
Gary Haase: electric bass
Stephen Ferrara: drums

Side B

Sing! Sing! Sing! (Louis Prima; 3:24)
Eddie Daniels: clarinet
Bucky Pizzarelli: rhythm guitar
Gary Haase: bass
Stephen Ferrera: drums

I Was a Little Too Lonely (And You Were a Little Too Late) (Evans-Livingston; 2:17)
John Pizzarelli: guitar
Ken Levinsky: piano
Bucky Pizzarelli: rhythm guitar
Gary Haase: bass
Stephen Ferrera: drums

I Hadn't Anyone Till You (Noble; 2:59)
John Pizzarelli: guitar

The Late, Late Show (Murray Berlin; 2:03)
John Pizzarelli: guitar
Ken Levinsky: piano
Bucky Pizzarelli: rhythm guitar
Gary Haase: bass
Stephen Ferrera: drums

The Trouble With Me Is You (Tobias-Tomlin; 2:19)
John Pizzarelli: electric guitars
Ken Levinsk: piano
Gary Haase: bass
Stephen Ferrera: drums

Better Luck Next Time (Irving Berlin; 2:36)
John Pizzarelli, guitar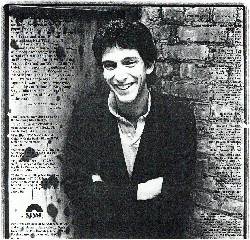 Liner Notes:

John Pizzarelli's third album plays to his strength: his wonderful and highly articulate perception of America's Popular songs. As both guitarist and singer Pizzarelli establishes fresh insight with humor and grace. His ballads, "Better Luck Next Time" and "I Hadn't Anyone Till You," are economical and plaintive. His title song, with modest technology at hand, is a wizard of a mix, and at its center it actually swings. Look for "I Was a Little Too Lonely (And You Were a Little Too Late)," an incarcerated delight until Nat Cole's record, made in 1956, was released in 1986; and a charming "I Guess I'll Have to Change My Plan," that captures Howard Dietz's terrific lyric without fuss or fanfare. In Sing! Sing! Sing!, John Pizzarelli does just that, with his own special flavor in the broth.

-Jonathan Schwartz, WNEW

John Pizzarelli may also be heard on the following Stash Records:

"2 x 7 = Pizzarelli" (ST-207) Seven-string guitar duets with Bucky Pizzarelli, from 1984.

"I'm Hip" (ST-226) Vocals and Guitar with the Bucky Pizzarelli Trio, featuring the hit single, "I Like Jersey Best."

"Swinging Sevens" (ST-239) The first set of seven-string guitar duets with Bucky Pizzarelli, from 1980.

"Hit That Jive, Jack!" (ST-256) Swinging Songs old and new, featuring Bucky Pizzarelli, Dave McKenna, and Butch Miles.

"John Pizzarelli Sing Nat King Cole and Others (ST-C-2656) A special cassette-only compilation culled from both ST-226 and ST-256 and including both "I'm Hip" and "I Like Jersey Best."

© 1987 Stash Records, Inc.



Return to Top