Home
---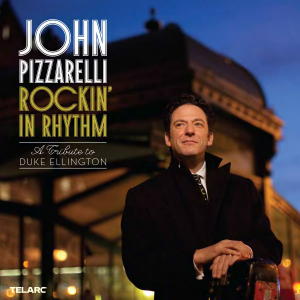 From the Telarc Records Site:

Singer/guitarist John Pizzarelli, a master in the art of reinventing jazz classics, celebrates the music of Duke Ellington, undeniably one of the most prominent musical icons of the 20th century. Rockin' In Rhythm: A Tribute to Duke Ellington is Pizzarelli's first ever Ellington recording and his ninth release with Telarc International, a Division of Concord Music Group.

Pizzarelli was still a very young musician when Ellington died in May 1974, but thanks to his father – veteran guitarist Bucky Pizzarelli – he would eventually learn much about jazz's most important composer.

"Duke's music was an integral part of any set my father played," says Pizzarelli. "I heard a tremendous amount of his music listening to my Dad and then through performing with him. There are some many beautiful melodies and so many discoveries to be made on any given night."

An elegant version of "Satin Doll" includes a guitar solo by Pizzarelli's father, Bucky. "On one of Dad's first LPs there was a version of 'Satin Doll' I always loved," Pizzarelli says. "He always plays the song like it's the first time for him, and I'm so glad he played the solo here."

After a recent chat with Tony Bennett at a party, Pizzarelli recalled the legendary singer's moving performance of Ellington's "Love Scene" at a 1986 Radio City Music Hall concert, and decided to record his own interpretation. Bennett included "Love Scene" on his 1965 recording If I Ruled the World: Songs for the Jet Set. "If you see Tony live, he always mentions Duke, much like my father does," says Pizzarelli. "This tune is a rare one that I'm glad I remembered to include."

Rockin' In Rhythm is the follow up to Pizzarelli's critically-acclaimed 2008 release, With A Song In My Heart – John Pizzarelli Sings the Music of Richard Rodgers, which featured Sebesky's GRAMMY® nominated arrangement of "Johnny One Note."

In 2009, Pizzarelli won the Montreal Jazz Festival's prestigious Ella Fitzgerald Award, conferred in recognition of the versatility, improvisational originality and quality of repertoire of a jazz singer renowned on the international scene.

Rockin' In Rhythm combines the enduring work of Duke Ellington with John Pizzarelli's incredible ability to reinterpret the Great American Songbook.

Pizzarelli says, "Don Sebesky surprised us all at the session when, after the 'keeper' take of 'C Jam,' he said that we should 'thank Pizzarelli for getting us all together to play Duke Ellington.' Well, I am grateful that when I chose to salute such an American icon as Duke Ellington, I had such tremendous friends and associates to help realize my dream."

Selections: In a Mellow Tone - East St. Louis Toodle-oo/Don't Get Around Much Anymore - Satin Doll - C Jam Blues - In My Solitude - Just Squeeze Me - Perdido - All Too Soon - I'm Beginning To See the Light - Love Scene - I Got it Bad and That Ain't Good - Cottontail / Rockin' In Rhythm

Musicians: John Pizzarelli - guitar and vocals, Martin Pizzarelli - bass, Tony Tedesco - drums, Larry Fuller - piano, Tony Kadleck - trumpet, John Mosca - trombone and eb alto horn, Andy Fusco - alto sax and clarinet, Kenny Berger - baritone sax and bass clarinet, Harry Allen - tenor sax, Kurt Elling - vocals, Jessica Molaskey - vocals, Bucky Pizzarelli - electric and acoustic rhythm guitar, and Aaron Weinstein - violin.


---

Click Here to buy from Telarc/Concord.
Click Here to buy from Amazon.